The quarterback market has accelerated rapidly on Tuesday, and the Jets are now talking to their Kirk Cousins contingency plan.
Teddy Bridgewater is working on a deal with the Jets, Ian Rapoport of NFL.com reports (on Twitter). The Jets are not believed to be Bridgewater's only option, per Rapoport, but he is the team's top choice at this juncture.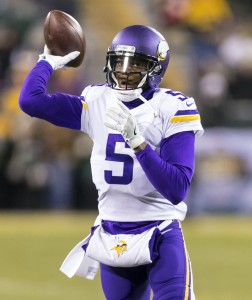 The Jets have been eyeing Bridgewater for a bit now, and with the Broncos, Cardinals and likely Vikings having successfully selected their quarterbacks in the past 15 hours, options for Bridgewater to be a starter are dwindling. The Bills do not have a bridge option as of yet, and A.J. McCarron is still unattached, but New York has had Bridgewater atop its Cousins-failsafe hierarchy.
This coming to fruition would send all three of Minnesota's 2017 quarterbacks to other teams. Bridgewater, though, has not completed a pass in a game since the 2015 season. He threw two passes last season after entering one Vikings game late, but the severe leg injury has defined the former first-round pick's career to this point. It figures to significantly lower Bridgewater's price compared to what it would have been, and given his previous status in Minnesota, Cousins may well not be Twin Cities-bound if Bridgewater didn't get hurt during the Vikes' 2016 training camp.
Bridgewater only received one full season of starter work, and it was a workmanlike campaign. The Louisville product threw 14 touchdown passes and nine interceptions but led the Vikings to the NFC North title. He completed 65 percent of his passes that season as well.
The Jets are likely fully committed to landing a quarterback in the first round, putting Bridgewater as their latest bridge option. Christian Hackenberg and Bryce Petty remain on Gang Green's roster, but neither has instilled much confidence in the Mike Maccagnan-led franchise as of yet. Hackenberg has not seen any action in two years despite being a second-round pick.
Josh McCown played well as New York's previous bridge solution, and it was rumored the Jets were considering him for a second tour of mentor duty. But the soon-to-be 39-year-old passer may have to consider other options if he wants to continue playing. McCown was considering retirement prior to the Jets signing him last year.
Photo courtesy of USA Today Sports Images.
Follow @PFRumors