The quarterback dominoes continue to fall, with the latest representing another opportunity for Sam Bradford.
Bradford has agreed to terms with the Cardinals, Adam Schefter of ESPN.com reports (on Twitter). This stands to take another team out of the Kirk Cousins mix, one that's believed to be concluding with the Vikings landing this year's free agent prize.
It's a two-year deal for Bradford, Peter Schrager of NFL.com reports (on Twitter), and Kent Somers of the Arizona Republic tweets this agreement will be worth $18MM per year. Incentives could take it to $20MM per season, per Somers. However, Schefter and NFL.com's Ian Rapoport report (Twitter links) this is a one-year deal worth $20MM with an option for a second season. Schefter reports $15MM is guaranteed in this contract. Some form of injury protection exists within this deal, Mike Jurecki of ArizonaSports.com tweets.
With Cousins likely landing in Minnesota and Case Keenum set to trek to Denver, the Cardinals were lower on options. They were believed to have inquired about Tyrod Taylor as well before the Browns acquired him. But Bradford will now head to a fourth NFC team and potentially receive an opportunity to be a Week 1 starter again.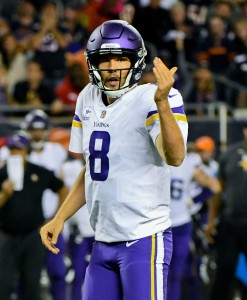 The Cardinals were linked to Mike Glennon earlier on Tuesday, but that could well have been as a possible backup. As of now, no quarterbacks reside on Arizona's roster after Carson Palmer's retirement and Drew Stanton and Blaine Gabbert's contracts expiring.
Given his injury history, Bradford does not bring much stability. But he did play 15 games for the 2016 Vikings and suited up for 14 contests with the 2015 Eagles. While Bradford set a then-NFL record with a 71.6 percent completion rate in his first Minnesota season, during a season that saw him throw 20 touchdown passes compared to five interceptions, his tenure was marred by nagging knee trouble in his second.
Bradford played in just two games for the Vikings last season. He torched the Saints in a Week 1 win but then experienced knee pain that shelved him for several weeks, and the former No. 1 overall pick could not make it through a second game — being benched for Keenum — and did not play again last season. Bradford also missed all of the 2014 season and nine games for the 2013 Rams due to knee trouble.
This is a slight gamble for the Cardinals, but without the kind of cap space the Vikings or Jets had, a Cousins union looked less likely.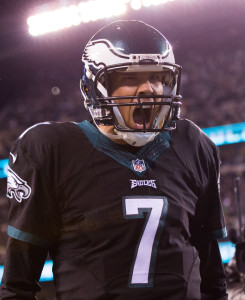 This takes another veteran option out of the mix for the Jets. But Teddy Bridgewater remains unaffiliated, and Gang Green was believed to be viewing the former Vikings first-rounder as its optimal bridge plan. This also leaves A.J. McCarron without a surefire landing spot. The Bengals backup had sought an opportunity to become a starter, but several franchises have moved or are believed to be moving in other directions.
As for Bradford, he's still just 30 despite experiencing a litany of injuries. He will likely be asked to take the Cardinals' reins in the near future while the franchise attempts to bring in a long-term successor in the draft. Picking at No. 15 this year could complicate that.
It's quite possible all four top quarterbacks in this year's prospect pool could be long gone by the time Arizona's selection window opens. The Browns, Giants, Jets, Bills and possibly the Broncos represent potential quarterback landmines for the Cardinals' quest, and after the Bills' Cordy Glenn trade, all five of these franchises pick in front of Arizona. The Cardinals could target a passer in the second round, however, and may turn to the 2019 draft.
[RELATED: Cardinals Depth Chart]
Photo courtesy of USA Today Sports Images.
Follow @PFRumors