The Seahawks have released quarterback Trevone Boykin, the team announced. This comes on the heels of accusations of domestic violence from girlfriend Shabrika Bailey.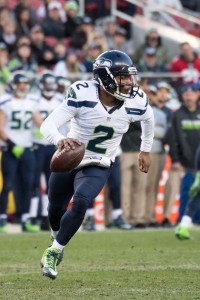 "So he goes into a choke. I remember him choking me and I'm trying to calm him down. And I just couldn't. And I blacked out. I just couldn't calm him down at all," Bailey said as she described a violent scene from last Tuesday night with Boykin (via WFAA). "The pressure was just hard. The pressure got hard to where I just remember just collapsing completely. And I just woke up in a puddle of blood on the kitchen floor. My whole right side was full of blood on the kitchen floor."
Bailey went on to explain that Boykin dragged her to the bathtub, took off her clothes, and tried to clean her up. Hours later, he brought her to the hospital, but fled when hospital staff separated the couple and began asking questions about the incident. Bailey was left with a broken jaw on both sides and had to be transported to a different hospital for treatment on her swollen and constricted airway.
Boykin has been in some hot water before, including an arrest last year for marijuana possession and public intoxication after Bailey reversed her car at a high speed, hit pedestrians on the sidewalk, and crashed into a bar. Bailey was hit with a host of charges, including a felony. Now, Bailey says that the crash happened after Boykin leaned over from the passenger side and choked her unconscious, causing the car to go into reverse. Boykin was also previously under probation for striking a police officer in late 2015.
Boykin was with the Seahawks for his entire NFL career and was slated to return for another season as Russell Wilson's backup. He won't be doing that now and, if the allegations are proven to be true, it is extremely unlikely that he'll ever play in the league again.
Follow @PFRumors