Former Seahawks quarterback Trevone Boykin was arrested and booked into the Mansfield Law Enforcement Center in Mansfield, Texas on charges of aggravated assault with serious bodily injury, WFAA in Dallas reports (Twitter link).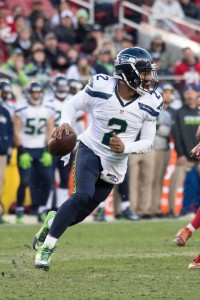 The charges stem from a March 21 incident during which Boykin allegedly assaulted his girlfriend Shabrika Bailey. She claims that an extremely violent incident with Boykin left her with a broken jaw and a constricted airway, resulting in a lengthy hospital stay. She also says that this was not a one-time event.
According to the police report, Mansfield Police Officers responded to a call at Parkland Hospital in Dallas about the alleged incident on March 21. The following day, detectives executed a search warrant at the location of the offense and gathered items of evidence. During the investigation, the detectives observed cameras inside the residence that may have captured the assault and removed a recording device that was connected to the cameras. After obtaining a search warrant for the contents of the camera, the detectives reviewed the footage on Wednesday which appeared to detail an assault. Boykin was arrested later that day and his bond has yet to be set.
The Seahawks released the quarterback on Tuesday after the allegations surfaced. Boykin responded to the allegations on Tuesday:
"I understand the Seahawks' decision to release me. The story that was reported casts a bad light on the organization and on me. I want to be clear that the story is false," Boykin said (Twitter link via Ian Rapoport of NFL.com). "The police have taken statements from the accuser, another witness, and me. All of these statements confirm that I was not involved in the physical altercation. This woman has lied about me and it has cost my job. I know guilt by association is real. This person has fabricated a story and I am suffering the consequences. I will let the legal system run its course and I know I will be vindicated."
This marks the third arrest for Boykin in a little over a year. On March 27, 2017, he was arrested for suspicion of public intoxication and marijuana possession. On April 6, authorities picked up Boykin on a possible parole violation.
Boykin was with the Seahawks for his entire NFL career and was slated to return for another season as Russell Wilson's backup. He won't be doing that now and, if the allegations are proven to be true, it is extremely unlikely that he'll ever play in the league again.
Follow @PFRumors