It's a done deal. On Friday, the Cowboys officially announced the release of Dez Bryant.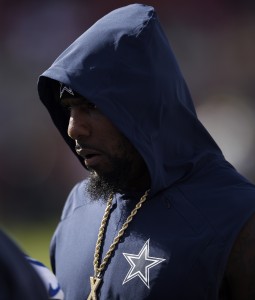 "As an organization we hold Dez Bryant in the highest regard, and we are grateful for his passion, spirit and contributions to this team for the past eight years," Cowboys owner Jerry Jones said in a statement. "He will always be a valued member of our family. Dez and I share a personal and professional relationship that is very strong, and he is one of just a handful of players with whom I have become that close to over the past 30 years. This was not an easy decision. It was made based upon doing what we believe is in the best interest of the Dallas Cowboys. We arrived at this crossroad collectively with input from several voices within the organization. Ultimately we determined it was time to go in a new direction."
The Cowboys, surprisingly, did not offer Bryant a reduction in pay before informing him of their decision. Given Bryant's contributions to the Cowboys over the years and Jones' personal admiration of him, one has to wonder why the Cowboys did not release Bryant earlier in the offseason.
Had Bryant been released prior to the start of free agency, he would have had an opportunity to sign elsewhere on a decently sized multi-year deal. Bryant's performance has undeniably tailed off over the last three years, but he still would have stood out in a generally weak crop of free agent wide receivers. Bryant probably wouldn't have landed a deal on a par with Sammy Watkins (three-year, $48MM contract with the Chiefs), Allen Robinson (three-year, $42MM contract with Bears), or Paul Richardson (five-year, $40MM contract with Redskins), but an average annual value close to Marqise Lee's $8.5MM/year would not have been out of the question.
Here in April, Bryant still figures to draw widespread interest, but his market will be affected by a lack of available dollars and WR1/WR2 vacancies.
Photo courtesy of USA Today Sports Images.
Follow @PFRumors