Former LSU running back Derrius Guice, widely regarded as the second-best back in this year's class behind Penn State's Saquon Barkley, slipped to the bottom of the second round before the Redskins snapped him up with the No. 59 overall selection. The slide was not especially surprising in light of reports of personality concerns that emerged earlier this month, and yesterday we heard that his visits with NFL clubs did not go well.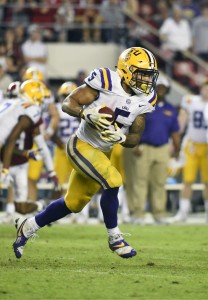 There are now a few more details on that front. Mike Florio of Pro Football Talk, citing Ian Rapoport of NFL.com, said that Guice's meeting with the Eagles — who were certainly in the market for a running back in the draft, though they ultimately did not select one — ultimately devolved into a "shouting match." One unnamed source called it the worst meeting Philadelphia ever had with a player.
Florio had the opportunity to speak with Guice prior to the draft, and when he asked Guice to comment on the conflicting stories he told as to certain questions he claimed NFL teams asked him, Guice chose to simply avoid the topic. He has been described as "immature" and "high-maintenance," and one executive from a club that had several opportunities to draft him said that, unless he matures quickly, he will wear out his welcome in Washington in a couple of years.
Eagles GM Howie Roseman, though, has downplayed any talk of an altercation between his team and his new division rival. Per John Keim of ESPN.com, Roseman said, "There was no altercation. When you hear the word 'altercation,' it sounds like fisticuffs or something, or yelling or screaming. I don't know I've ever been in a room where a player has yelled at anyone. Sometimes you can't believe everything you read or hear."
For his part, Guice is prepared to put his negative publicity behind him and move on. He said, "Everything that is behind me is behind me. This is a fresh, clean slate. I'm just ready to get to work."
Not being picked in the first round will hurt Guice's earnings on his rookie contract, but he is still expected to be the Redskins' starting running back.
Photo courtesy of USA Today Sports Images.
Follow @PFRumors