While the Giants and Broncos provide unique variables in the top five, the Browns and Jets are essentially committed to drafting a quarterback. And the latter's preference hierarchy appears to have evolved since the start of the pre-draft process.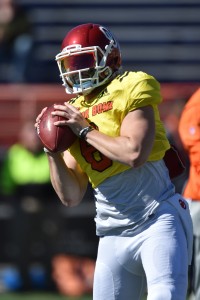 When the Jets traded up from No. 6 to No. 3, Ralph Vacchiano of SNY.tv notes the common line of thinking was there was "no way" Sam Darnold would potentially be available to them. Now, the Jets are planning to visit with Darnold after previously holding off on doing so.
Mike Maccagnan said he'd be open to trading up, but Vacchiano hears the Browns are not expected to be interested in a trade at No. 1 and the Giants — despite being in a different conference — "absolutely" won't accommodate the Jets in a high-stakes trade like this. While the Giants have been linked to Darnold for a bit now, the Jets would probably take the USC-developed passer if he fell to No. 3, per Vacchiano.
At this research period's outset, the Jets held Josh Rosen in higher regard than they did Baker Mayfield. Now, Vacchiano notes the team has warmed up to the Oklahoma statistical dynamo and points out the buzz has the Jets favoring Mayfield over Rosen.
Plenty of indications in recent weeks support the Jets being thorough about Mayfield, while Rosen has probably been the least discussed quarterback out of the big four. Vacchiano writes the Jets have still spent plenty of time studying Rosen, the building momentum surrounding Mayfield notwithstanding. They visited with the UCLA alum this week. However, if the Jets do end up choosing Rosen over Mayfield, this will qualify as an incredibly successful smokescreen operation.
Photo courtesy of USA Today Sports Images.
Follow @PFRumors