Cardinals running back David Johnson is skipping this week's mandatory minicamp, league sources tell ESPN.com's Adam Schefter (on Twitter). Still, there have been discussions regarding a new contract and both sides are hopeful that a deal will come together.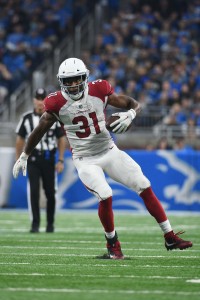 Johnson scheduled to earn a base salary of $1.8MM in the final year of his deal. After losing the 2017 season to injury, Johnson is understandably concerned about his financial security. If Johnson were to suffer another serious injury this year, he would be left without a safety net and a fairly low floor in free agency, despite all of his past accomplishments.
Even if Johnson gets back to his old form, the Cardinals are armed with the franchise tag, which can be used twice over. In a best case scenario, Johnson may be subject to the whim of the organization and under their control through 2020. If the Cards were to use the franchise tag on Johnson twice (a third tag would likely be too expensive to consider), he would not be in line for unrestricted free agency until the age of 29.
By skipping Tuesday's practice, Johnson will be subject to a fine of about $14K. It then climbs to roughly $28K on Day 2, and $42K on day three. All in all, Johnson may wind up forfeiting $84K+ if he misses all three days this week. That's chump change for many players, but that's not necessarily the case for Johnson, who has earned just $2.3MM in salary over the first three years of his career, despite being one of the best running backs in the game.
Johnson was arguably the league's best offensive player in 2016 as he racked up more than 2,100 yards from scrimmage and scored 20 touchdowns. He remains one of the NFL's premier talents at running back, despite missing the majority of the 2017 campaign with a dislocated wrist.
It's worth noting that Johnson's lack of service time may prevent him from a prolonged standout with the Cardinals. He could drum up leverage by abstaining from practices, but staying away from the team during the regular season could cost him the games needed to bring him closer to free agency.
Photo courtesy of USA Today Sports Images.
Follow @PFRumors