Ra'Shede Hageman's odds of returning to the NFL just got a little slimmer. Per Paul Walsh of the Star Tribune, Hageman, currently a free agent, was arrested in Hennepin County, Minnesota early Saturday morning on suspicion of fourth-degree driving while impaired. He was released on his own recognizance and has a hearing set for June 21.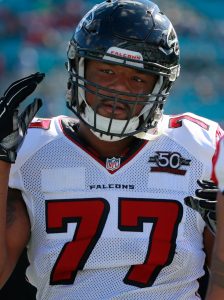 This is not the first time the former Golden Gopher has gotten into legal trouble. Hageman, whom the Falcons selected in the second round of the 2014 draft, was arrested on domestic violence charges in 2016, and teams have been keeping their distance from him ever since. Last year, Hageman was placed on the commissioner's exempt list prior to the start of the season, and the Falcons subsequently waived him. After that, he was hit with a six-week suspension by the league, a ban that he served as a free agent.
He showed some promise before falling out of favor with the league, and Atlanta coaches were impressed with his progress before the team chose to part ways with him. The Seahawks expressed interest in him in April, and the Patriots brought him in for a visit last month, but neither club was intrigued enough to sign him.
Now, of course, he will find it even harder to get a job in the league, regardless of how his DWI case is resolved. He ultimately pleaded guilty to misdemeanor charges stemming from his prior arrest, though the domestic violence count was dropped pursuant to the terms of the plea deal.
Hageman has put together 16 starts (out of a possible 48 regular season games) and four sacks in his professional career.
Photo courtesy of USA Today Sports Images.
Follow @PFRumors