Last year, Johnathan Hankins was among the league's most sought-after free agent defensive tackles. In July 2018, Hankins is without an NFL home.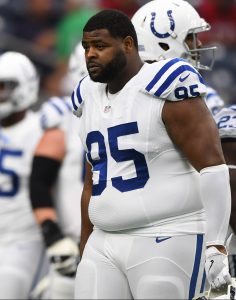 Hankins' market dragged a bit last year due to his asking price, but he settled for less in April when he signed a three-year, $27MM deal with the Colts. In March of this year, the Colts surprised many by terminating his contract.
Hankins finished out the year as Pro Football Focus' No. 20 ranked interior defender and the Colts had – and still have – an abundance of cap room. The Colts' change from a 3-4 scheme to a 4-3 setup likely played a part in their decision, but Hankins had only worked out of a 4-3 scheme prior to joining Indianapolis. Hankins did not offer much against the pass in 2017, but he was exceptional against the run, which is the primary goal of any defensive tackle.
Since his release, Hankins has met with the Redskins and Jets, but did not sign with either club. So, what gives?
We haven't heard much on Hankins in recent weeks, but it stands to reason that his asking price is keeping him from landing a deal. In 2017, Hankins' camp told teams that he was looking for $15MM per year. Soon after, the asking price was reduced to a more reasonable $10MM per season, and he eventually accepted a $9MM/year pact from the Colts.
After turning in a solid season – nearly the best of his career, according to PFF – Hankins may be unwilling to take anything less than what he received from the Colts. It's the only logical explanation for one of the league's best run-stuffing DTs being left in limbo.
That position may seem foolish since many teams have already blown their wad in the first and second waves of free agency, but there are still plenty of dollars available, particularly when it comes to his potential suitors. The Jets, who might not want to bank on 32-year-old Steve McLendon in the middle, will still have about $14MM in cap room after they sign top draft pick Sam Darnold. The Packers, who might not have complete confidence in Kenny Clark taking the next step in 2018, have nearly $11MM in space after inking their entire draft class. The Cowboys, who will start the year without David Irving, have nearly $15MM to work with.
Between now and the start of the year, it's entirely possible that a team could open up the checkbook to meet Hankins' demands. In addition to the aforementioned clubs, there are still 16 teams with eight figures in cap room. Beggars can't be choosers at this stage of the summer, but all it takes is one GM to cave.
Alternatively, Hankins may wind up taking his salary demands down a notch or two, which would greatly open up his possibilities. The Lions, for example, have just $9MM in space, but they may want to consider Hankins to beef up their line, even after signing Sylvester Williams in March.
If the market doesn't meet his demands, Hankins may be willing to settle for a one-year platform contract in the $7MM range to reestablish his value. If quality defenders like Aaron Donald, Khalil Mack, Jadeveon Clowney, and Geno Atkins are taken off of the 2019 free agent list with extensions, Hankins could be on the path to riches next spring.
Photo courtesy of USA Today Sports Images.
Follow @PFRumors