With Le'Veon Bell attached to the franchise tag for another season, the fallout's begun — from the running back's agent saying this will likely be his client's final year in Pittsburgh, to the Steelers expressing hope they can sign Bell after this season.
More clarity's emerging on the Steelers' final offer. Pittsburgh offered Bell a five-year, $70MM deal, Ian Rapoport of NFL.com reports (on Twitter), doing so a year after proposing a five-year, $60MM contract to the All-Pro running back. During an appearance on NFL Total Access, Rapoport said the Steelers and Bell did not come as close to a deal as they did last July.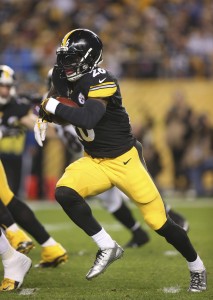 Rapoport notes this proposal, like last summer's, included more than $30MM in its first two years. The average salary of this deal is $14MM — $500K shy of the amount of Bell's current franchise tag and the figure that Bell said was his price floor.
It's not certain what guarantees the Steelers were willing to include, and that element could be why Bell looks bound for 2019 free agency.
The Steelers' 2017 offer was worth $13.3MM over five years. ESPN.com's Jeremy Fowler reported the team increased the proposal in the spring, with Bell's rejection stalling talks for months. It's unclear if this final offer was more than the one the Steelers made to Bell in the spring.
This five-year, $70MM pact, interestingly, is the same amount both Dez Bryant and Demaryius Thomas signed for at the 2015 tag deadline. This illustrates the obvious gap between the present values of the wide receiver and running back positions, with Antonio Brown now earning a wideout-high $17MM per year, but it also shows how much Bell stuck to his guns. This offer was $6MM north of any other running back's AAV.
The 26-year-old running back sought more from the Steelers in the spring because of the 406-touch season — his second first-team All-Pro slate — he put together last year and his status as arguably the NFL's best running back. Bell's gambling this kind of money will be there for him in free agency after what would probably be another high-volume workload this season. This worked for Kirk Cousins. The two-tag process netted him free agency and a fully guaranteed deal, but he plays a much less violent position. And Bell has some injuries in his past.
It's a bold move on Bell's part given what's happened to the running back market during his career and how the Steelers use him.
He enters 2018 with 1,229 career carries. Should Bell stay healthy, he'll almost certainly surpass 1,500 this season. The only active players ahead of Bell currently: Frank Gore, Marshawn Lynch, LeSean McCoy, Jonathan Stewart and LeGarrette Blount. All of whom have at least three more years' experience than the Steelers' versatile workhorse. And Bell has 312 career receptions as well, adding to the risk of turning down a long-term pact for a second straight year.
Photo courtesy of USA Today Sports Images.
Follow @PFRumors