It is never wise to read too much into preseason games, particularly the first preseason game. But after the Broncos' current backup signal-caller, Paxton Lynch, played miserably in last night's loss to the Vikings, writers and fans are understandably wondering whether Chad Kelly — who looked quite good outside of one interception — will begin taking reps with the second team.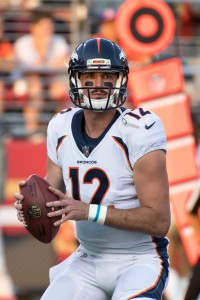 Case Keenum, whom Denver signed to be its starting QB after he shocked the world with an excellent 2017 campaign for Minnesota, did not play very well in his first real action for the Broncos either, but his job is secure (even though it must have been a little painful for Broncos fans to watch Kirk Cousins, deemed too expensive by Denver's front office, march his Vikings down the field for a touchdown in his only drive of the night). The real question is how long Lynch, who has been abjectly terrible since the Broncos traded up to draft him in the first round of the 2016 draft, will remain the team's No. 2 QB (or, for that matter, how long he will remain on the roster).
Both Mark Kiszla of the Denver Post and Nicki Jhabvala of The Athletic (Twitter link) believe that the team has to bring in a veteran QB to be Keenum's backup, either through trade or free agency. Kiszla goes so far as to say that GM John Elway made an egregious error in signing Keenum over Cousins, as Cousins is clearly the superior player, and Kiszla calls Elway's decision penny-wise and pound-foolish.
Kelly, a 2017 seventh-rounder who missed his entire rookie campaign as he recovered from wrist and knee surgeries, was 14-of-21 for 177 yards, two touchdowns, and an interception last night, while Lynch was 6-of-11 for 24 yards and an interception. Lynch was also booed pretty emphatically by his hometown fans, who began "KELL-Y! KELL-Y!" chants while the former Mr. Irrelevant was on the field.
There were already rumblings earlier this week that Kelly could become Keenum's backup, and head coach Vance Joseph did nothing to dispel that notion after last night's game. Joseph said, "We'll see. We'll watch the tape and see where we are. Obviously Case is the starter, so that's my main concern. But Chad, he's played well. He played well tonight outside of the one interception. He is a guy that plays with a lot of confidence" (Twitter link via Jhabvala).
The current list of free agent quarterbacks is fairly uninspiring, but a player like Teddy Bridgewater could be available via trade if the Broncos do indeed choose to go that route.
Photo courtesy of USA Today Sports Images.
Follow @PFRumors