Steelers wide receiver Antonio Brown is facing a pair of lawsuits stemming from an incident in April (via ESPN.com). Brown is being accused of throwing items from the balcony of a South Florida apartment which nearly hit a 2-year-old child who was outside near the pool area. For his part, Brown says the accusations are bogus.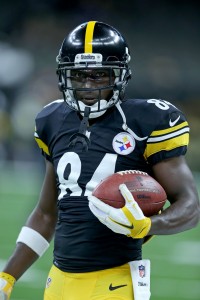 "It has now been made public that two lawsuits containing false claims have been filed against me," Brown said in a statement. "The facts will soon come out that prove my innocence. My focus will remain on football and I will not let the cases serve as a distraction."
Meanwhile, NFL spokesman Brian McCarthy says that the league is monitoring the civil suits. The NFL reserves the right to punish players even when courts find in their favor, so Brown could be subject to a suspension if the league office finds that the accusations have merit. League investigations are usually lengthy and often do not conclude before the legal process wraps up, so Brown is unlikely to face NFL discipline during the 2018 season. If anything, Brown could be looking at some sort of punishment in 2019, depending on how things play out.
This isn't the first potential distraction that Brown has faced this year. In September, Brown missed a Steelers practice after getting into a social media spat with a former employee. Brown made reference to a trade in that exchange on Twitter, but he has since reaffirmed his desire to stay in Pittsburgh.
Brown had some down games this year (at least, by his standards) and some communication issues with Ben Roethlisberger, but everything seems to be back on track after he had six catches for 101 yards in two scores on Sunday against the Falcons. The Steelers won that game 41-17, bringing them to 2-2-1 on the year.
Photo courtesy of USA Today Sports Images.
Follow @PFRumors