The Texans are releasing wide receiver Bruce Ellington off of the injured reserve list, Ian Rapoport of NFL.com tweets. Ellington, who was suffering from a hamstring injury, was recently cleared by doctors, so he could be ready to contribute for another team right away.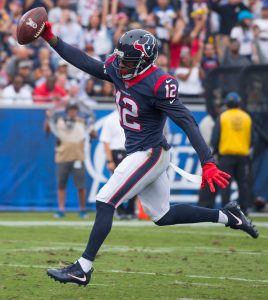 Since the trade deadline has passed, all NFL players released today or going forward are subject to the league's waiver system. That means the league's 31 other teams will have a chance at claiming Ellington, even though he is a vested veteran with more than four years of experience in the NFL.
While the Eagles, Texans, and Cowboys added receivers before the buzzer, other WR-needy teams such as the Patriots and Titans did not. Ellington could profile as a low-cost, low-risk addition for them.
Ellington had a breakout campaign with Houston in 2017. The 2014 fourth-round pick hauled in 29 catches for 330 yards and two touchdowns, and he added another 17 rushing yards on three carries. He also proved to be a capable returner when he played for the 49ers. The receiver averaged 25.6 yards per kick return in 2015 and 2016, but he didn't return a single kickoff in 2017. He did return five punts, though, compiling 47 yards.
Follow @PFRumors