The Browns unceremoniously fired head coach Hue Jackson earlier this week. Jackson ended his Cleveland tenure with a 3-36-1 record, including a 2-5-1 record this season. As the Browns prepare for their matchup against the Chiefs tomorrow, Jackson will be sitting out an NFL weekend for the first time since 2000 (when he was USC's offensive coordinator).
Jackson has naturally appeared in a number of interviews over the past week, including a sit-down talk with Cleveland.com's Mary Kay Cabot. We've compiled some of his notable soundbites below, although the entire interview (in which Jackson also discusses the power struggle over the offense) is worth reading in full: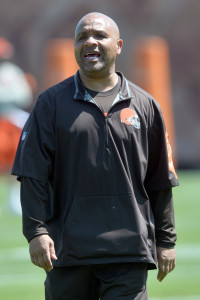 On if he was surprised by his sudden dismissal:
"I was surprised. I'm not going to say just totally blindsided because there was just so much noise out there about what was going on with our football team that I thought was not true. But anytime there's all these undercurrents going, there's something in there. 
"I was surprised when both Jimmy and John walked in my office and let me know that they'd be relieving me as being the head coach of the Cleveland Browns.
"That's a hard pill to swallow when you've given it your all, and you've worked extremely hard and you do everything you can to try to put the place in the best position to move forward. But again, it's their decision. I have to respect it and move on."
On if there was any "discord" within the organization/coaching staff:
"I didn't perceive it (that way). I think you can disagree with people and not have it be discord. Discord to me is a strong word. It means there's always infighting. That's a pretty hot word. 
"I know there was disagreements and rightfully so. Who doesn't disagree? But I think the term internal discord was a little much."
On his relationship with general manager John Dorsey:
"If there was a guy who could flip a roster and acquire talent at the rate we needed, it was John Dorsey. I also knew that if we didn't start winning, with John Dorsey on board, that changes were going to have to be made. This is why I chose a veteran OC in Todd Haley. It's why I chose Greg Williams as well."
On his impressions of the Browns' (and, vicariously, Dorsey's) rebuild:
"There is no such thing as a clean start, or total rebuild, or a reset. The faster you move on from people, the longer it could take from the next person to turn it into their vision. I believe the constant changes only compound the difficulties for the next person to have the time and patience to be successful. 
"I strongly believe that I did a lot of work in a short time of laying the foundation for turning the place around. It's unfortunate that they took the approach they did the first two years because those were two years that I couldn't get back from a record and value standpoint.
"Had we been doing in year one what I was able to get us to do in year three, there's no question we would already be a winning football team. You can't go 1-15 or 0-16 and have people like you unless you come out and explain to everyone that you're going to lose. And you can't say that publicly."
"We passed on three franchise QBs the first two years in Wentz, Watson and Mahomes. We played with a QB room with zero wins in the league. We played with street free agents and practice squad players in WRs. Yet our offense was the same or better than what we were doing this year. There is no way that should happen.
"You can't pass on quarterbacks. You never pass on a potential franchise quarterback because you don't know who's going to be there in the future. I think Baker Mayfield is going to be a sensational player if they surround him with the right people, but they've got to give him help and run a scheme suited to his skill set." 
On what's next for his career:
"I learned a lot from this experience. But just as important, I never lost what I knew from my previous experiences and successes. So I grew significantly as a coach over the last three years through this process. I went in assuming that it would be a simple transition of just getting to coaching and it being all about playing ball. I learned early on that this wasn't an accurate assumption.
"When there's such a deep history of losing, it compounds and impacts everything. So this experience has allow me to grow and be even more prepared for the next experience. 
"I'm the same coach from three years ago. As you've seen with other coaches who have went on to have success after their time in Cleveland, I expect nothing less of myself as well. So we'll see. But I'm looking forward to it."
Photo courtesy of USA Today Sports Images.
Follow @PFRumors