Jaguars cornerback Jalen Ramsey is undoubtedly one of the most talented corners in the NFL, but his brash and outspoken nature is apparently wearing thin in Jacksonville. Adam Schefter of ESPN.com reports that the Jags will seek to trade Ramsey — who was named a First Team All-Pro last season and who can be controlled through 2020 — this offseason.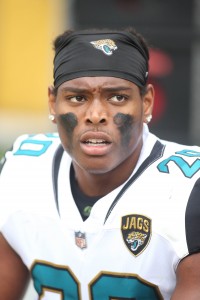 The team suspended Ramsey for a week during the preseason due to "violating team rules and [engaging in] conduct unbecoming of a Jaguars' football player," and that suspension appeared to stem from a series of tweets attacking media members for their criticism of then-teammate Dante Fowler. Ramsey is no stranger to controversial statements, however, as he has repeatedly made headlines for his vocal opinions about himself and opposing players.
But while he has every right to be confident, and while Jacksonville doubtlessly appreciates his self-esteem, the club does not like the way that confidence is manifesting itself. One league source said he "absolutely" believes the team will try to trade Ramsey, while another NFL GM said he would not be surprised if the club elects to go that route.
The Jaguars, predictably, are vehemently denying the rumor and have released the following statement: "The Jaguars have zero intention of trading CB Jalen Ramsey. There is no truth to this rumor."
If Ramsey were to be traded, his behavior would probably not do much to dampen interest in his services. As ESPN's Field Yates tweets, Ramsey's talent and his favorable contract status — he is due just $3.6MM next year before his fifth-year option would kick in for 2020 — would be seriously tempting to all 31 other teams in the league.
The Jags are in the midst of a five-game losing streak and have been one of the biggest disappointments in the league after narrowly missing a trip to the Super Bowl last season. Today's report, if true, would not do much to make Jacksonville fans any happier about the way this year has gone.
Photo courtesy of USA Today Sports Images.
Follow @PFRumors