Former Chiefs running back Kareem Hunt went unclaimed on waivers after the mandatory 24-hour period. Hunt, technically, is a free agent, though he is unlikely to be signed by any club.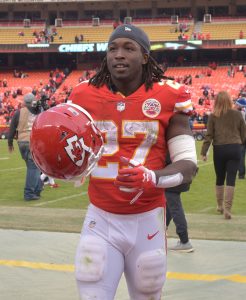 Video of Hunt's February skirmish in a Cleveland hotel leaked late last week, spelling the end of his Chiefs tenure. In the disturbing security cam footage, Hunt is seen kicking a 19-year-old woman who is down on the ground. This did not jibe with the version of events that Hunt gave to the Chiefs at the time of the incident, leading the Chiefs to cut him hours after the video went public.
Because of Hunt's accomplishments and his cheap rookie contract, it was speculated that another team might roll the dice by claiming Hunt. After all, the Redskins claimed embattled linebacker Reuben Foster off waivers just a couple of weeks ago following his second domestic violence incident of 2019. Instead, teams opted to let Hunt and his inexpensive two years of control fall by the wayside.
It remains to seen whether Hunt will get another opportunity in the NFL. Ray Rice never saw the field again after his infamous hotel incident, but Hunt is a much more effective player than Rice was at that stage of his career. Even if Hunt draws interest, it's unlikely that he'll be eligible to play in Week 1 of the 2019 season. The NFL's investigation is ongoing and it will almost certainly result in a lengthy suspension.
Hunt, 23, led the league with 1,327 rushing yards last year while adding eight scores on the ground and three through the air. He also caught 53 passes for 455 yards, positioning him as one of the best running backs in the NFL. This year, Hunt averaged 4.6 yards per carry with 14 touchdowns in total.
Photo courtesy of USA Today Sports Images.
Follow @PFRumors