The Raiders have parted ways with GM Reggie McKenzie, according to Ian Rapoport and Tom Pelissero of NFL.com (on Twitter). McKenzie was given the chance to stay on board for the rest of the season, but it sounds like he'll leave his post immediately.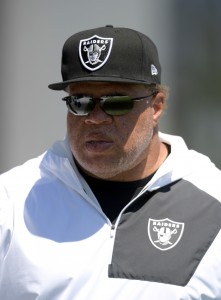 Rumors have circulated about McKenzie's job security since the hiring of Jon Gruden in the offseason. The talk has picked up in recent weeks, though Gruden did his best to throw water on the fire when speaking to reporters on Sunday.
"I don't have any comment on that," Gruden said (Twitter link via Michael Gehlken of the Review-Journal). "We're going to build this team back. I know that. We're going to bring the Raiders back."
At the time of Gruden's hiring, owner Mark Davis insisted the two men would work in concert. That's not how things played out. Gruden, who had control over the 53-man roster, brought in his own scouting staff including Dave Razzano, the club's "Director of Football Research."
McKenzie, a former NFL linebacker, worked for the Packers' front office from 1994 through 2012. After that, he was hired as the Raiders' GM, inheriting a team with an awful cap situation and depleted draft capital. McKenzie was not perfect, but he did manage to turn that club into a playoff team. Now that he's on the open market, one can't help but wonder if a return to the Packers is in the cards.
With Gruden and his own group of hand-picked advisors at the helm, the Raiders overhauled their roster this offseason, including the controversial trade of Khalil Mack to the Bears. The Raiders have lots of picks in the 2019 draft, but they don't have a lot of 2018 wins after Gruden targeted over-the-hill free agents and benched many of them in favor of younger players.
On Sunday, the Raiders upset the Steelers (thanks in large part to Chris Boswell's slip) and improved to 3-10 on the year. If the season ended today, the Raiders would pick third and twice more in the first round (No. 25, 26) thanks to the trades of Mack and Amari Cooper.
Photo courtesy of USA Today Sports Images.
Follow @PFRumors