It sounds like Joe Flacco's tenure with Baltimore may be coming to an end, but head coach John Harbaugh is still a big fan of his long-time quarterback. Following today's season-ending loss to the Chargers, Harbaugh said the veteran quarterback should have plenty of suitors during the offseason.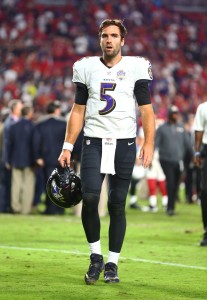 "Joe Flacco is going to play really well in this league. Joe can still play — I think we saw that the first half of the season," Harbaugh said (via Cindy Boren of the Washington Post). "Joe's going to have a market. There's going to be a lot of teams that are going to want Joe because they understand that. I'll be in Joe's corner wherever he's at. He's special. Joe Flacco is a great talent; he's an even better person. He's the best QB in the history of the Ravens without question…He's going to do just fine."
Harbaugh all but said that Flacco won't be in Baltimore next season, although this isn't much of a surprise. It was clear that the veteran's tenure with the organization was coming to an end when they decided to stick with rookie quarterback Lamar Jackson following Flacco's return from a hip injury.
A report from mid-December indicated that the organization would ultimately either cut or trade the 33-year-old. This offseason marks the first time the Ravens can cut ties with Flacco and save money against the salary cap, although reports have indicated that the front office could help move the veteran to a franchise of his choice.
Flacco was still more-than-serviceable in his nine games this season. The veteran signal-caller completed 61.2-percent of his passes for 2,465 yards, 12 touchdowns, and six interceptions. Jackson struggled during today's loss, and Harbaugh admitted that they considered inserting Flacco into the lineup. Ultimately, the veteran didn't see the field for what will likely be his final game with the franchise.
If this is indeed the end of Flacco's tenure in Baltimore, the veteran will finish his stint sitting in first for the majority of the team's all-time passing stats. The 2008 first-round pick even ranks 15th in franchise history in rushing yards, which only accentuates his all-time value to the franchise.
Photo courtesy of USA Today Sports Images.
Follow @PFRumors