The Cardinals are set to reach outside the box for their next head coach. Kliff Kingsbury is in Arizona finalizing a deal to become the franchise's next sideline leader, Peter Schrager of Fox Sports reports (on Twitter).
This agreement should be completed soon, per Ian Rapoport of NFL.com (Twitter link). Kingsbury met with the Jets about their HC opening, but it looks like the Cardinals are moving in to form a Kingsbury-Josh Rosen pairing, with Sam Darnold's next coach to be determined.
The sides have completed the deal, Rapoport tweets. It is a four-year agreement that includes a fifth-year team option, Adam Schefter of ESPN.com reports (on Twitter).
In an offseason geared around finding coaches that can help teams rejuvenate their offenses, this hire stands out.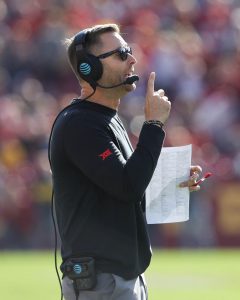 Texas Tech fired Kingsbury after six seasons, and the 39-year-old offensive mind landed as USC's offensive coordinator. The Trojans initially blocked Kingsbury from interviews with the Jets and Cards before allowing them, and it looks like the Pac-12 program will have to find another OC, again. Kingsbury has a small buy-out in his USC contract, per The Athletic's Jay Glazer, who adds that the university has said Kingsbury did not resign (as rumors suggested he might after being blocked from Jets and Cardinals meetings).
The Cardinals ranked as the NFL's worst offense, both in yardage and scoring, last season. They had previously not made a coach a one-and-done in more than 65 years. But this ineffectiveness and the team's plunge toward 3-13 led to Steve Wilks' ouster. Arizona scored the NFL's second-most points in 2015 and ranked sixth as recently as 2016, but the Bruce Arians–Carson Palmer era ending gutted the franchise.
A year after Arizona went through a methodical search that ended with a late-January Wilks hire, the franchise is taking a gamble on Kingsbury's innovative abilities. Every Cardinals candidate — on a list headed by Adam Gase, Jim Caldwell and Chiefs OC Eric Bieniemy — had an offensive background.
Kingsbury convinced both Patrick Mahomes and Baker Mayfield to come to Lubbock, Texas, and led one of Division I's most explosive attacks during his tenure. While the Red Raiders have traditionally deployed such potency on offense, Kingsbury once serving as one of many quarterbacks capable of posting big numbers, the NFL is gravitating increasingly toward college-based schemes. This made Kingsbury an attractive candidate, despite his recent firing and now-brief USC employment. Case Keenum also set NCAA passing records during Kingsbury's two years as the University of Houston's co-offensive coordinator.
That said, the Red Raiders went 35-40 under Kingsbury since 2013. In an era where new bowls continue to spawn, Texas Tech failed to qualify for a bowl game in three of those seasons. There was also a noticeable drop from the final Mahomes season (fifth in scoring) to the post-Mahomes teams — 23rd in points in 2017, 100th in 2018 — for the Red Raiders' offense. Mahomes threw for more than 5,000 yards in 2016, however, and although Mayfield ended up excelling at Oklahoma, his success further attracted teams to Kingsbury.
Still, the Cardinals figure to have one of the NFL's most interesting offensive setups next season. The Cards fired Mike McCoy midseason and pivoted to Byron Leftwich. But their offense sputtered throughout, accumulating countless injuries up front. This combination stunted Rosen's growth and essentially squandered a year of David Johnson's prime. Kingsbury will be tasked with making Steve Keim's Rosen investment pay off.
Photo courtesy of USA Today Sports Images.
Follow @PFRumors