Oklahoma QB and Heisman winner Kyler Murray is now expected to enter the NFL draft and is leaning towards a football career despite a report last month indicating that he would follow through on his baseball commitment after being selected by MLB's Oakland A's with the No. 9 overall pick in last year's draft. However, the A's are not going down without a fight.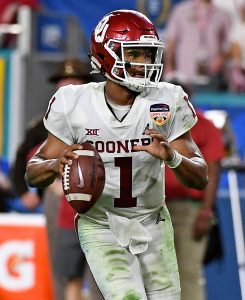 Bob Nightengale of USA Today tweets that Athletics GM Billy Beane and other members of the team's front office are meeting with Murray today in an effort to convince him to stick with baseball (the deadline for Murray's application for entry into the NFL draft is tomorrow). As Mike Florio of Pro Football Talk writes, the A's don't necessarily need a firm decision from Murray today. All they need is for Murray to not slam the door on baseball, because until he does, there's a good chance that no NFL team will spend a first-round pick on him. And if Murray is not going to be a first-round choice, he may be inclined to stay with baseball.
Much of that has to do with simple math. The A's gave Murray a $4.66MM signing bonus, which he would be required to pay back if he chooses to play football, and as ESPN's Chris Mortensen observes, the last pick in the first round of the 2018 draft (Lamar Jackson) got a $4.97MM signing bonus (Twitter link).
Mortensen reports that Murray is still expected to apply for the NFL draft, regardless of how convincing Beane's pitch is, though he will have 72 hours to change his mind.
Photo courtesy of USA Today Sports Images.
Follow @PFRumors