After reaching a settlement with the NFL on his collusion case earlier this week, Colin Kaepernick could be nearing a return to the league, his lawyer Mark Geragos said in an interview on CNN, Mike Freeman of Bleacher Reports tweets.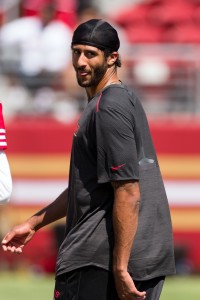 "I think you're going to see within the next two weeks someone is going to step up."
In addition to making that statement, he mentioned that three teams could have interest, namely the Panthers. Whether he is speaking from knowledge of the situation, which he obviously has, or just making the claim, is unknown at this moment.
The Panthers are a natural landing spot for the former 49ers quarterback, who possesses a similar skill set to Cam Newton and would be playing for a team that just gave Eric Reid a three-year contract. Reid, of course, was a part of the same collusion case against the NFL.
In the past, Geragos has also mentioned the Patriots as a potential landing spot. Of course, any team that does sign the polarizing figure could withstand a backlash from a section of fans who do not agree with Kaepernick's protest. If any team could do it, it would be the Patriots.
Again, as far as fits go, the Panthers would make the most sense. The offense wouldn't have to change if Newton, who has been dealing with nagging injuries over the last year, has to leave the game. The mobile Kaepernick obviously boasts a different skill set than the statuesque Tom Brady. Also, in recent years New England has opted for a traditional pocket passer as its backup like Jimmy Garoppolo, Jacoby Brissett and Brian Hoyer rather than a dual-threat.
Recently, it was reported the quarterback was contacted by the upstart AAF about a potential gig but he decided not to sign with the league.
We will see in the coming days if there is anything to Geragos' comments or if it is just conjecture.
Photo courtesy of USA Today Sports Images.
Follow @PFRumors