For a while now it has seemed like Antonio Brown and the Steelers parting ways at some point this offseason is a foregone conclusion, but that might not be the case. When Steelers owner Art Rooney II spoke again last week he used a much softer and less definite tone, and now we have more reason to believe a reunion isn't impossible.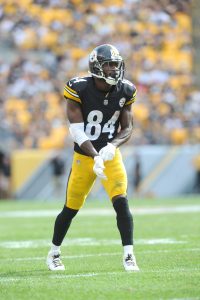 Brown made his first public appearance since this saga began yesterday from the Super Bowl, and in his brief comments he didn't rule out returning to Pittsburgh, according to Jeremy Fowler of ESPN.com. Brown said he just wants to win, and emphasized that it "doesn't matter where." Brown didn't elaborate much further but it's interesting given the way Rooney publicly softened his stance recently.
"There has been contact between both sides, though it's unclear whether Brown has spoken directly with Rooney", Fowler writes. Sources told Fowler that Brown is "open to thriving in a new offense if that's the path the Steelers choose", which seems to suggest Brown isn't demanding a trade. As Fowler points out, Brown has solely communicated through social media since the season ended up until this point, so these comments are significant.
It was also reported just a few days ago that the relationship remains solid between Brown and some members of the front office. For a while it seemed like the bridge had been burned, and if he does return it'll definitely take a lot of work from Mike Tomlin to mend things in the locker room. Brown coming back to the Steelers is clearly picking up some steam, but there's still plenty of time for things to reverse course yet again.
Photo courtesy of USA Today Sports Images.
Follow @PFRumors