The Dolphins are expected to end their seven-year run with Ryan Tannehill, the longest-tenured starter (albeit with the emergency-circumstances Jay Cutler season interrupting Tannehill's time atop the depth chart) they've had since Dan Marino's retirement. On this date 19 years ago, Miami made a move that helped lead to Marino's exit.
Transitioning from Jimmy Johnson to Dave Wannstedt, the Dolphins signed Fiedler to a three-year, $3.8MM deal — a low-cost accord even in 2000, when the cap rested at $62.2MM. Mark Brunell's previous backup in Jacksonville, Fiedler was brought in as a starter-type option despite having started just one game in four previous NFL seasons.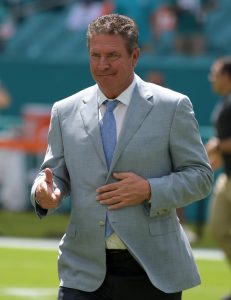 Marino, though, had not yet retired when Fiedler signed. The Miami icon voided the final two years of his contract earlier that February, making him a free agent. Then 38, Marino would have made $7.58MM in 2000 under the terms of his previous contract. He was coming off his worst statistical season (12 touchdown passes, 17 interceptions in 11 games) but did help the Dolphins to a first-round playoff win. Though, the next round saw Fiedler receive extensive work in a 62-7 Jaguars blowout.
That ended up being Marino's final game. Following the Fiedler signing, Marino retired in March 2000. But this came after an offer emerged from the Vikings. Quarterbacked primarily by Jeff George in 1999, the Vikings offered Marino their starting job. Rather than trek to Minnesota, which would have stood to delay future Dolphin Daunte Culpepper's tenure as the Vikings' starter, Marino retired as the NFL's leader in every major passing category.
Fiedler ended up playing five seasons with the Dolphins, signing a far more lucrative deal — five years, $25MM — in 2002. He started 59 games with the franchise from 2000-04. Although Fiedler was never a high-end starter, averaging more than 200 passing yards per game in just one season and hitting the 20-touchdown pass threshold once (2001), he led the Dolphins to two playoff berths. He was the starter for Miami's most recent postseason win — a wild card-round victory over the Colts in 2000 — and piloted the team to an 11-5 record in 2001.
Though Fiedler went 36-23 in his Dolphins starts, Miami moved on after the '04 season, signing Gus Frerotte to start in 2005. The then-Nick Saban-led Fins, who were involved in the Drew Brees sweepstakes the following year, then traded a second-round pick for Culpepper.
Photo courtesy of USA Today Sports Images.
Follow @PFRumors