Telvin Smith has been absent from the Jaguars' voluntary workouts, but he insists that he wants to stay in Jacksonville. On Tuesday, the linebacker took to social media to quell any talk that he's looking for a way out.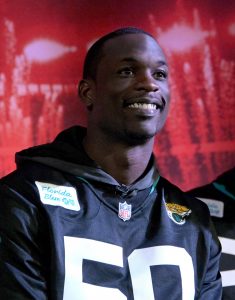 "Understand this, I never left Duval," the 2017 Pro Bowler said on Instagram (via Justin Barney of News4Jax). "I'm never leaving Duval; it's Duval til we die. You understand me? Y'all seen trade rumors and stuff. Y'all seen me go anywhere? Exactly. Y'all seen the rumors go somewhere, but y'all ain't seen me go no where cause I ain't going nowhere. You understand me? I promise y'all this: Ain't nothing about Telvin Smith leaving Duval."
Of course, none of this guarantees that Smith will remain on the Jags' roster. The Jaguars drafted Murray State linebacker Quincy Williams with one of their third-round picks, inviting speculation that Smith could be a trade candidate. Then, GM Dave Caldwell did little to silence that talk after the draft. When asked about Smith's future by a reporter, he replied, "We'll see."
Smith, a fifth-round pick in 2014, has at least two interceptions in each of the past three seasons and three career touchdowns. If the Jaguars put him on the block, they'll find a ripe market for his services.
Photo courtesy of USA Today Sports Images.
Follow @PFRumors