On this date in 2004, one of the NFL's best running backs called it quits at the age of 26. On the heels of a four-game ban for marijuana, Dolphins star Ricky Williams decided that he had enough.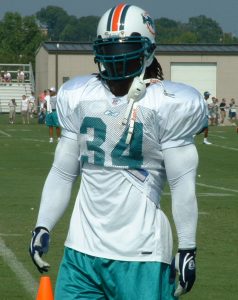 "I'm finally free," Williams told the Miami Herald from Hawaii. "I can't remember ever being this happy."
Williams' announcement sent shockwaves through the football world and also became the topic of national conversation for non-sports fans. How could Williams, who was just two years removed from leading the league with 1,853 rushing yards, walk away from millions of dollars and superstar status?
Many believed that Williams was choosing recreational marijuana over his career. However, Williams explained that he was in search of true happiness, fulfillment, and enlightenment.
"Well, why not?," Williams said when asked about his puzzling decision. "I just don't want to be in this business anymore. was never strong enough to not play football, but I'm strong enough now. Everyone has thrown every possible scenario at me about why I shouldn't do this, but they're in denial. I'm happy with my decision."
The Dolphins' offense was largely built around Williams and his mid-summer departure was nothing short of devastating for the club. The Dolphins invested a great deal in No. 34 – they sent four draft picks to the Saints, including two first-round picks – to acquire him in 2002, so they had little in the way of backfield reinforcements.
Later, Williams revealed that there were other factors that went into his decision. After his stellar 2002 campaign, he once again led the league in rushing attempts with 392 on the year. However, without a quality passing game to keep defenses honest, he averaged just 3.5 yards per carry. The Dolphins, meanwhile, carried over the same exact quarterback room into 2004. Knowing that Jay Fiedler, Brian Griese, and Sage Rosenfels would produce the same results, Williams elected against taking more punishment.
"I led the NFL in attempts the past two years and they really didn't go out and get a quarterback to help me, so I knew it's going to be all on me again," Williams told Sports Illustrated in 2004. "I could see my mortality as a football player, that I'm not going to be able to do this much longer. It just became obvious to me that playing football for me is not going to be fun, not something I'm going to enjoy and it's time for me to do something different."
Williams returned to football in 2005 and managed to average 4.4 yards per tote in a suspension-shortened season. In 2006, the NFL handed Williams a one-year ban for the fourth drug policy violation of his career, prompting him to sign with the CFL's Toronto Argonauts.
After suffering a pectoral tear in his 2007 return, Williams would not play another full NFL season until 2008. The time spent away from the NFL would have been an insurmountable obstacle for most players, but there was clearly something to Williams' holistic regimen.
From 2008-2011, Williams' ages 31-34 seasons, the veteran managed 4.3 yards per carry for the Dolphins and Ravens. Then, after topping 10,000 career rushing yards, Williams decided to retire for good.
Today, Williams is one of several ex-NFL players involved in the formation of the Freedom Football League, which vows to provide players with "permanent and reliable holistic health and wellness support on and off the field" as well as encouragement to address "hot-button" societal issues.
Photo courtesy of USA Today Sports Images.
Follow @PFRumors