Shortly after former Buccaneers DT Gerald McCoy agreed to a deal with the Panthers, we heard that his decision to stay in the NFC South rather than sign with the Browns or Ravens — the two other teams that were heavily pursuing him — was based primarily upon the camaraderie he saw during his visit to Carolina, along with his reservations about the cities of Cleveland and Baltimore. Although there was speculation that the chance to exact revenge on his old team two times a season may have had some impact on his choice, it seems that opportunity was more important to McCoy than was previously believed.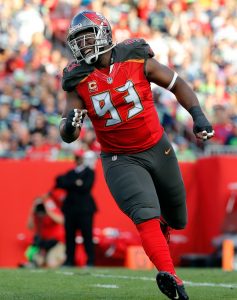 Appearing on FS1's "The Undisputed" (h/t ESPN.com), McCoy unequivocally voiced his displeasure with the Tampa Bay organization. First, McCoy said that the club's decision to give new signee (and McCoy replacement) Ndamukong Suh No. 93, McCoy's old number, did not sit well with him. McCoy said, "It may seem like it's just a number, but it's bigger than that. It's respect. That was a big part of the separation between me and Tampa, period, was the respect they showed to me all offseason. It just wasn't there."
As McCoy makes clear, the jersey number situation was emblematic of what he perceived to be a general lack of appreciation for his work for, and dedication to, a generally mediocre outfit. He added, "I'm one of the best players to ever play in the organization. I'm going to say it — usually I wouldn't, but I'm going to say it. It kind of shows the respect and how they feel about me."
The Bucs knew for some time that they were going to part ways with McCoy, and after they were unable to find a willing trade partner, they ultimately made the decision to release him. Even so, the fact that he did not receive any communication from the team's coaching staff — including new HC Bruce Arians — while he was still under contract was quite frustrating to McCoy. He said, "I spoke to more people in Baltimore's, Cleveland's and Carolina's staff than I spoke to the Bucs all offseason, and that's a fact."
Although the Panthers and Bucs both seem content with the former First Team All-Pros they have added to their defensive lines this offseason, McCoy's candid remarks will add a layer of interest to this year's divisional bouts between the two clubs.
Photo courtesy of USA Today Sports Images.
Follow @PFRumors