Details are emerging on Tyreek Hill's eight-hour interview with NFL Special Counsel for Investigations Lisa Friel, and multiple sources with knowledge of the situation tell Nate Taylor of The Athletic that the interview went very well for Hill.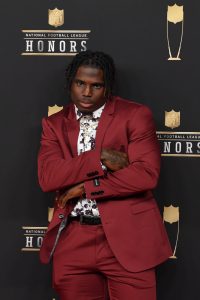 Taylor says that most of the dialogue between Hill and Friel centered around the now infamous audio recording of a conversation between Hill and Crystal Espinal, the mother of Hill's three-year-old son, that took place this spring. Taylor's sources say that Hill was able to provide the league with a "massive amount of evidence" to support his claims that Espinal was the primary disciplinarian of their child and that she was the one who caused the boy's injuries. The league requested full records from the Overland Park Police Department in March pertaining to the criminal investigation into Hill, but since the case involved a child, the PD denied access to those records.
Hill may be suspended for the threatening comments he made to Espinal in the audio recording, but at least one Chiefs official believes the suspension will be for a maximum of four games, and several team officials expect the league to announce its decision as soon as next month.
That would clear the way for Hill to participate in training camp, and we learned just yesterday that Hill is expected to join his teammates when camp opens next month. Indeed, once the league makes its decision, the Chiefs will lift their indefinite ban of Hill.
The NFL may now ask Hill to visit league headquarters to meet with Roger Goodell, but it currently sounds as though Hill will escape this ugly situation about as cleanly as he could have hoped.
Photo courtesy of USA Today Sports Images.
Follow @PFRumors