The Dolphins are one of only a couple of teams that will be having open quarterback competitions in training camp. They signed Ryan Fitzpatrick to a two-year, $11MM deal this offseason, but then traded a second-round pick for Josh Rosen in April.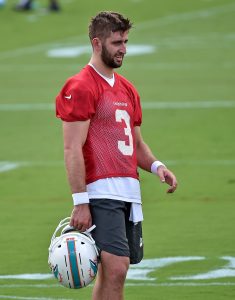 Many have accused the Dolphins of tanking, and they're definitely playing for the future, so it's been assumed the team will want to get a look at Rosen sooner or later. Not so fast. Fitzpatrick has apparently been impressing during OTAs and minicamp, per Barry Jackson of The Miami Herald. Additionally, Jackson writes that Rosen is a "clear underdog to begin the season as the starter."
One Dolphins player told Jackson that Fitzpatrick has "impressed everyone as a leader and that he was clearly the best quarterback in the offseason program." Rosen started 13 games for the Cardinals as a rookie last year, and struggled mightily. He completed only 55 percent of his passes, and had more interceptions (14) than touchdowns (11). That being said the circumstances were far from ideal, as we was playing for an offensive coordinator who was fired just a handful of weeks into the season, and with one of the league's worst offensive lines.
Fitzpatrick started the first few games of the 2018 season for the Buccaneers due to Jameis Winston's suspension, and played so well that he initially kept the job when Winston returned. He was subsequently benched, reinserted, and benched again before the end of the year. Fitzpatrick has always been more than capable of playing lights out in flashes, but has struggled for consistency.
New Dolphins coach Brian Flores has insisted that the team isn't going to tank, so maybe he will go with Fitzpatrick each week if he thinks it gives him the best chance to win. Miami only gave up a late second-rounder for Rosen, so it's not as if they're too heavily invested in the UCLA product.
That being said, with Fitzpatrick's relatively modest contract they aren't too invested in him either. Miami will likely be picking early in next year's draft and they'll need to get a look at Rosen to see whether or not they need to draft a quarterback. Fitzpatrick will likely falter at some point and relinquish his grip on the starting job, but it doesn't sound like it'll be right away.
Photo courtesy of USA Today Sports Images.
Follow @PFRumors