Less than a week ago, we learned that Ryan Fitzpatrick was decisively winning the Dolphins' starting quarterback competition. Now, though, the race has tightened considerably, and Adam H. Beasley of the Miami Herald says that Josh Rosen may find himself at the top of the depth chart when the team returns to practice Monday.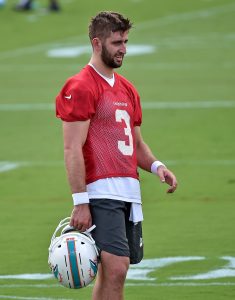 Beasley notes that Rosen has shown improvement over the past week, while Fitzpatrick has stumbled a bit. On Saturday, Fitzpatrick threw two interceptions and nearly threw a third, and after the second pick, head coach Brian Flores sent in Rosen to work with the first-team offense, which has not happened often. Rosen responded by engineering a touchdown drive that included several excellent throws.
Flores, who was the one who declared Fitzpatrick the frontrunner on Tuesday, walked back his comments a bit on Saturday. He said, "I know I said [Fitzpatrick] was leading the way the other day, but let's be clear there's still a lot competition and a lot of time left. Today is a big day to showcase the improvement guys have made."
When asked specifically about Rosen, Flores added, "[h]e's made some improvement really across the board. It's things a lot of people don't see. Better footwork, better mechanics in the pocket, better decision-making."
The Dolphins would probably like to see Rosen take the reins, as he was a first-round draft choice last year and has a legitimate chance of becoming the team's QB of the future. Fitzpatrick, on the other hand, is in the twilight of his career and is almost certainly not going to be a part of the next competitive Miami team.
So as we head into the first week of preseason games, the race is suddenly too close to call.
Photo courtesy of USA Today Sports Images.
Follow @PFRumors