Fortunately Antonio Brown hasn't filed his retirement papers yet. The Raiders' star receiver threatened to hang up his cleats over a dispute about what helmet he'll wear this season, but things appear to be deescalating.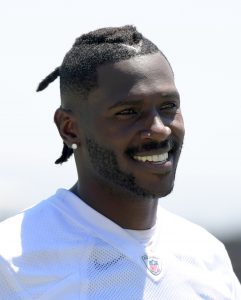 Brown "is expected to rejoin the club at its training camp headquarters in the near future," a team official told Michael Gehlken of the Las Vegas Review-Journal. Brown has been staying away from the team's practices the past couple weeks. His absences were originally thought to be due to his frostbitten feet, but it was revealed today it's actually about the helmet.
Gehlken reports that a ruling from the arbitrator is expected sometime next week on whether or not Brown can wear his current helmet. All equipment must be approved by the National Operating Committee for Standards and Athletic Equipment, and they apparently refuse to test Brown's model because it is more than ten years old. Brown's wasn't among the helmets that were banned this offseason, his just wasn't even included in the NOCSAE's study because it was more than a decade old. Since that model wasn't specifically banned for not being safe, his appeal could have some hope.
Gehklen notes that the team next practices on Monday, and whether or not he's present will go a long way in determining what kind of story this is going to be moving forward. Of course this is Brown we're talking about, so while things seem to be heading in the right direction for now, that can change at any moment. We'll keep you updated as we hear more.
Photo courtesy of USA Today Sports Images.
Follow @PFRumors