It was an inevitably, but free agent wideout Antonio Brown has now filed his much-discussed grievances against the Raiders and Patriots, as Ian Rapoport of NFL.com reports. We learned last week that Brown could be filing the following grievances: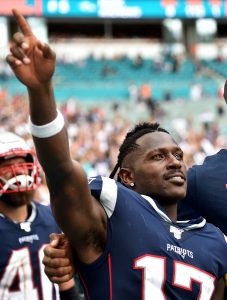 • Fine appeals with the Raiders: $215K
• Salary guarantees with the Raiders : $29MM
• Signing bonus with the Raiders: $1MM
• Unpaid Week 1 salary from the Raiders: $860K
• Salary guarantees with the Patriots: $1MM
• Signing bonus with the Patriots: $9MM
• Unpaid Week 3 salary from the Patriots: $64K
• 2020 option year with the Patriots: $20MM
Rapoport confirms that all of the above grievances have been filed except the one concerning the 2020 option year with the Patriots, which felt like a major longshot anyway. In sum, Brown is seeking roughly $40MM in unpaid salary and bonuses.
However, Brown's grievances are unlikely to be heard until the spring. Recent reports have suggested that AB stands a good chance of recouping the $9MM signing bonus from New England, but he could have a tough time recovering most of the other amounts.
We heard earlier this week that the NFL has yet to interview Brown concerning the sexual assault/rape allegations levied against him, and Mike Florio of Pro Football Talk — while acknowledging that Brown does not merit any sympathy — says the NFL could be deliberately slow-playing the situation to keep Brown out of the league. After all, no team will sign Brown while the league continues to stay silent as to whether the embattled wideout is destined for the commissioner's exempt list, and the league doesn't really have to say anything until its investigation is concluded (the last step of which is the interview with Brown). That's not a violation of the collusion provisions of the CBA, but it is a convenient loophole.
Photo courtesy of USA Today Sports Images.
Follow @PFRumors