Given his recent performance, there's a "really good chance" that quarterback Jameis Winston could land a new contract if he keeps things up, head coach Bruce Arians tells Peter King of NBC Sports.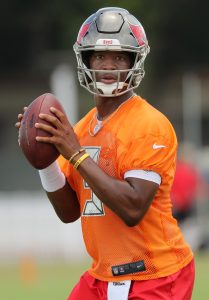 "He's taken us down the field to win or tie the game the last two weeks in the last two minutes," Arians said. "That's the maturity of a young quarterback you're looking for. If he plays like he has the last two weeks for the rest of the season, I'd say there's a really good chance."
Winston is currently playing out the fifth-year option on his rookie contract. Heading into the season, there were tons of questions about Winston's future in Tampa, but he could be playing his way into a lucrative new deal that would keep him with the club in 2020 and beyond.
Of course, this hasn't been a banner year for the Bucs, nor has it been a tremendous season for Winston on the whole. The Bucs are 3-6 and Winston has thrown for 17 touchdowns against 14 interceptions – plus ten fumbles. Still, he's showing serious signs of life. On
The Buccaneers continue to underachieve, with a record of 3-6 through nine games. And questions continue to swirl regarding whether quarterback Jameis Winston will continue to be the team's quarterback after 2019. Still, the Bucs eeked out a win over the Cardinals on Sunday and they managed to take the Seahawks into overtime in the previous week, thanks in part to the former No. 1 overall pick.
Arians, in Year One as the Bucs head coach, is encouraged by what he's seen so far. There's also this to consider: It's nearly impossible to find high-end quarterback in the free agent market and the Bucs currently project to pick outside of the Top 5 in the 2020 draft. A blend of big plays from Winston and a lack of quality alternatives could lead to a new deal between now and March.
Photo courtesy of USA Today Sports Images.
Follow @PFRumors