It sounds as though Giants DL Leonard Williams is prepared to hit free agency. As Darryl Slater of NJ.com writes, Williams said that if the Giants don't offer him "top-tier money," he is going to test the open market in 2020.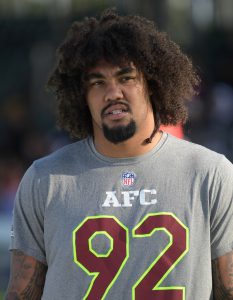 Williams' feelings are certainly understandable. Big Blue is in the midst of a rebuild, and Williams — who was traded from the Jets to the Giants prior to this year's trade deadline — is tired of losing. He has played in 11 games this year between the two clubs, and his team won just one of those games. Over the past three-plus seasons, Williams' teams have gone 15-44, and he wants to play for a winner.
Of course, if the price is right, he may be willing to stomach a few more losses. "I know that I want to get a big contract, and I know that I am worth a lot," Williams said. "If I don't think [the Giants are] giving me what I think I'm worth, then obviously I think hitting free agency would make sense."
Williams, whom the Jets selected with the No. 6 overall pick of the 2015 draft, concedes that his play does not merit Aaron Donald money, but he does not believe he is too far removed from Donald's level. That suggests that he could be eyeing something like Grady Jarrett's recent four-year, $68MM ($38MM fully-guaranteed) deal with the Falcons.
The problem is that any of Williams' potential suitors would need to believe that he can start converting his quarterback hits into more sacks before they pay him top dollar. He has 97 QB hits in his career, but he has just 17 sacks to show for it. He also has not made much of an impact in the running game, having recorded just one tackle for loss this season. Simply put, he looks like a solid starter who could become more if he is paired with a Pro Bowl-caliber talent on the defensive line.
When Giants GM Dave Gettleman swung the trade for Williams, it raised a few eyebrows given Williams' status as a pending FA and New York's status as a non-contender. Gettleman sent a third- and fifth-round draft choice to the Jets in the deal, picks that increase in value with each Giants loss. Plus, the fifth-rounder could become a fourth-rounder if Big Blue re-signs Williams. As Ryan Dunleavy of the New York Post observes, Gettleman has shown an ability to cut his losses rather than compound mistakes, so it will be interesting to see if he is willing to move on from Williams rather than bank on his upside and potentially pay him more than he is worth.
The Giants have exclusive negotiating rights with Williams until March 16.
Photo courtesy of USA Today Sports Images.
Follow @PFRumors