Alabama quarterback Tua Tagovailoa recently suffered one of the most significant injuries in recent college football history. Previously a near-lock to go toward the top of the first-round, if not first overall, there is suddenly a ton of uncertainty surrounding the star passer since his devastating hip injury. Speaking to the media at a recent press conference, Tagovailoa provided an update on his recovery and his thought process regarding the upcoming draft.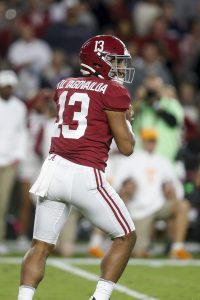 First, he described what was going through his mind on the field when the injury actually happened. "Yeah, I couldn't comprehend anything," Tagovailoa said Thursday, via Michael Casagrande of AL.com. "I had a concussion at the same time when I was on the ground. I think my body was just in such a traumatic state that I couldn't really feel too much. I just know that, well from what I could remember, with every little movement I made on the ground, I was hurting. That's all I can remember."
While the signal-caller said his doctors have told him he'll be able to play football again at 100 percent, he did concede that things will never be the same internally. "I don't think I'd be the same again because there's, like metal in here, you know?" he said. "I lose some rotation inward, so I won't be able to twist as much inward and whatnot. I wouldn't need that as much. When you're running, you're almost always opening up your hip. From the doctors say, they expect a full recovery and I'll be able to go out there and play football again at 100 percent, it's just I won't be able to rotate it internally the same way."
While that might sound worse than it actually is, Tagovailoa indicating he'll have to change at all physically doesn't inspire a ton of confidence. Interestingly Tagovailoa said he recently talked with legendary running back Bo Jackson at the Iron Bowl, and Jackson told him not to rush the process. Many people initially compared Tua's hip injury to the one that ended Jackson's football career, but Tagovailoa called them "two totally different situations with our hips."
Finally with respect to the draft, Tagovailoa said he is still seriously considering returning to Alabama for his senior season. That being said, he seemed to indicate that he'll go pro as long as the feedback from teams is good and suggests he won't fall too far. When asked if he was projected to be a top 10-15 selection he acknowledged "that'd be tough to pass up" but also said "there's a lot more to it in that aspect," per Field Yates of ESPN.com (Twitter link). We should know a lot more about Tagovailoa's intentions shortly.
Photo courtesy of USA Today Sports Images.
Follow @PFRumors