Patrick Mahomes is Super Bowl bound. He's also in line for a monumental payday.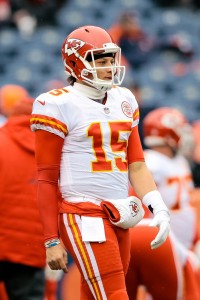 Last year, at the age of 23-and-a-third, Mahomes became the league's youngest MVP since Dan Marino won the award in 1984. He didn't disappoint in his encore, either. The grizzled 24-year-old threw for for 4,031 yards with 26 touchdowns against just five interceptions in 2019. He also threw in some dazzling running plays, for good measure, resulting in two more scores and 15 first downs.
His incomparable skillset and early accomplishments point to a historic contract. The NFL's all-time average annual value (AAV) record is made to be broken and routinely shattered each year, sometimes by quarterbacks who are not considered to be among the league's very best. Mahomes' case is decidedly different – he's simply from another planet, and some execs think he'll cross the $40MM/year threshold.
"I think he's gonna get $40MM [per year], either over four or five years," one NFC personnel evaluator told ESPN.com's Jeremy Fowler.
Another NFC exec with negotiating experience mostly echoed that sentiment:"If Russell Wilson is at $35MM, then probably $37.5MM."
Wilson's deal with the Seahawks calls for $140MM across four years. Rams QB Jared Goff isn't far behind with $134MM over the same stretch, with a whopping $110MM in guaranteed cash. Carson Wentz fell just shy with his four-year, $128MM Eagles extension. There will be new additions to this tier – including Cowboys QB Dak Prescott – but Mahomes is poised to top Prescott's deal (whenever that happens) and set a watermark that won't be approached for a while.
Mahomes' rookie deal runs through 2020 and the Chiefs hold his fifth-year option to take him through 2021. Still, league officials say time is of the essence for KC.
"If I were [the Chiefs], I would be as proactive as humanly possible," one exec told Fowler. "If Jared Goff can get no offset language in his entire contract after three years in the league, then this specific player has all the leverage. I think $40MM would be Mahomes selling himself short."
Will Mahomes net $40MM per year, or more, on his next deal? Cast your vote below (link for app users) and back up your choice in the comment section.
Photo courtesy of USA Today Sports Images.
Follow @PFRumors