Last year, Jets GM Mike Maccagnan signed Le'Veon Bell to a four-year, $52.5MM deal. Weeks later, Maccagnan was fired in a long-expected, yet ill-timed, move. Apparently, new head coach Adam Gase and GM Joe Douglas were not wild about Maccagnan's moves, including the major expenditure for Bell.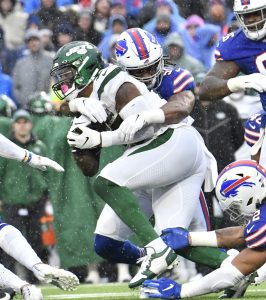 Unfortunately for Gase and Douglas, escaping Bell's deal won't be easy. The running back is slated to count for a $15.5MM cap figure in 2020 with similar numbers in 2021 and 2022. Shedding Bell this offseason would leave the Jets with $19MM in dead money and zero cap savings. The Jets' best opportunity to dump Bell would come before the 2021 season, when they could save $9.5MM against $4MM in dead money.
Meanwhile, Bell underperformed in 2019 and reportedly clashed with team brass. He averaged just 3.2 yards per carry and his 66 catches for 461 yards out of the backfield weren't nearly enough to offset that lack of efficiency.
Bell claimed multiple teams inquired about him before the October trade deadline. Douglas hinted that he would listen on calls after the season, though he later walked those comments back, saying that Bell is a valued member of the team.
Releasing Bell outright would result in $19MM in dead money. A trade would be less damaging – the Jets would absorb just $6MM in dead money while freeing up $9.5MM in cap room. Then again, the team taking on Bell would have to commit to his guaranteed $13MM for 2020, and that's a tough sell. To offset that, the Jets would likely have to convert a portion of his 2020 pay into a signing bonus, which would add to the dead money total.
With all of that in mind, do you expect Bell to be in a Jets uniform in 2020? Cast your vote below (link for app users) and back up your choice in the comments section.
Photo courtesy of USA Today Sports Images.
Follow @PFRumors