There's been a lot of buzz about Philip Rivers and the Colts recently, and there have also been reports that the Buccaneers are interested in the impending free agent passer. While most of the talk surrounding where Rivers plays next has focused on those two teams, there's at least one wild card option in the mix.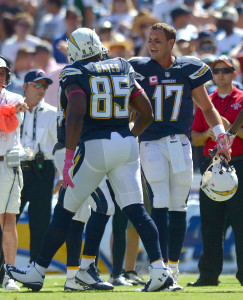 The Redskins are expected to "make a bid" for Rivers, sources at the combine told Tony Pauline of ProFootballNetwork.com. There has been some talk that Washington could be looking to upgrade at quarterback despite the presence of Dwayne Haskins, and we recently heard that they would host Joe Burrow and Tua Tagovailoa on pre-draft visits. The Redskins hold the second overall pick in April's draft. This latest report indicates they're also interested in bringing in a veteran, although Pauline cautions there would be some financial hurdles.
The sources conceded that it would be tough for the Redskins to sign Rivers, since it "will likely take a massive contract." It was unclear what Rivers' market was going to look like, but it sounds like he's going to be in high-demand. The 38-year-old had a down year this past season that was marred by turnovers, but in 2018 he was one of the best quarterbacks in the league and made the Pro Bowl. He's averaged at least 7.8 yards per attempt in three straight seasons.
Rivers has been linked to the Colts in part because of his connections to head coach Frank Reich and offensive coordinator Nick Sirianni, but he also has some connections to Washington's new staff. New Redskins head coach Ron Rivera was an assistant with the Chargers for four years during Rivers' time there, which could help explain this report. Although this seems like a bit of a long-shot Rivera has consistently insisted that nothing will be handed to Haskins, and it will be very interesting to see what if anything they do at quarterback this offseason.
Follow @PFRumors