The Redskins used a first-round pick on a quarterback last year, and with the exception of the Cardinals from 2018-19, no team has used back-to-back first-rounders on passers in over 35 years. But a new regime now resides in Washington, and Ron Rivera plans to use at least two of the team's allotted 30 pre-draft visits on quarterbacks.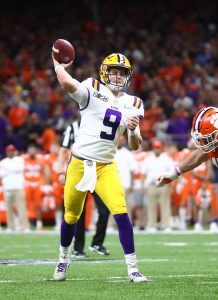 Rivera said Wednesday the team is planning to host Joe Burrow and Tua Tagovailoa on visits. The first-year Redskins coach has praised 2019 first-rounder Dwayne Haskins but has not named him the starter for next season.
"Everything is an option. We're not closing the door on anything," Rivera said, via NBC Sports Washington's J.P. Finlay. "One of the things that [VP of player personnel] Kyle [Smith] and I talked about is that we have to go through this process because you don't know what's going to happen in front of you and we don't know what's going to happen with you. So we're going to go through and Tua is one of the guys that were bringing in, just so everybody knows. We're bringing in Burrow and were bringing in Tua, and we will see both of their workouts."
Rivera added the Redskins will look at Chase Young and cornerbacks at No. 2 overall. Washington has been linked to Young in just about every major mock draft, but the Redskins were split on drafting Haskins last year. He finished with by far the NFL's worst QBR figure last season, so it cannot be assumed yet the Rivera-led regime will automatically rule out quarterback in Round 1. Although some uncertainty exists regarding Burrow's interest in playing for the Bengals, he is not expected to be available by the time the Redskins pick.
This also may be a sign the Redskins, like the Giants and Lions, are willing to shop their pick. Tagovailoa and Justin Herbert suitors may determine they need to move ahead of certain teams, and the Redskins, Lions and Giants profile as franchises who will not take a quarterback in Round 1. Teams with greater needs at quarterback — the Dolphins, Chargers and Panthers — sit at Nos. 5-7.
Photo courtesy of USA Today Sports Images.
Follow @PFRumors