The Rams shopped Todd Gurley in trades but now are making a major decision. They have released the All-Pro running back.
This move comes less than 15 minutes before Gurley would have been guaranteed $10.5MM. It will send the 25-year-old running back into free agency. The Rams will eat a staggering $20.15MM in dead money in total, though they'll spread it out over two years via the post-June 1 designation (via Field Yates of ESPN.com). The Rams will also see $5.5MM in cap savings, starting on June 2.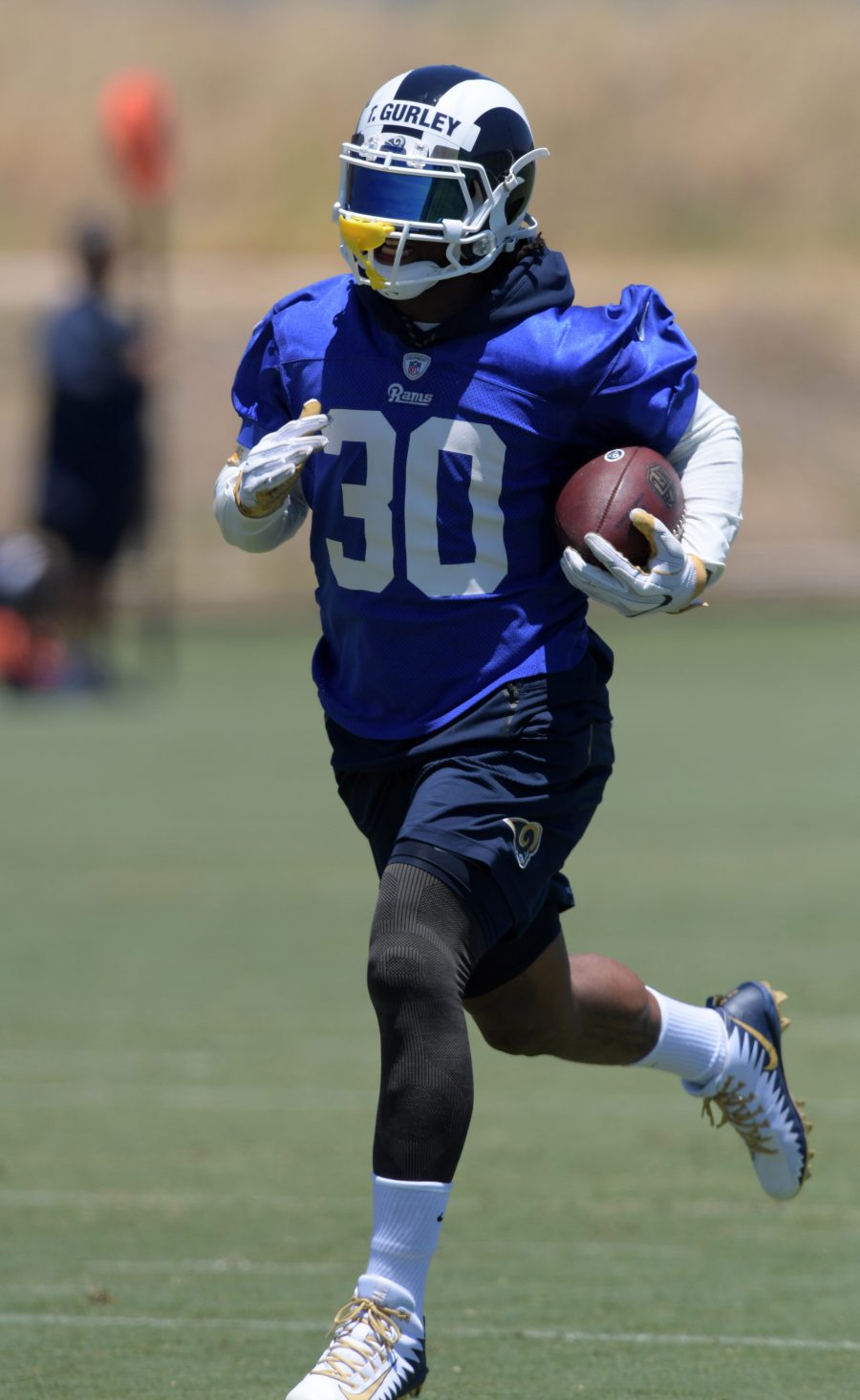 Gurley's four-year, $57.5MM contract reset the running back market in 2018, and the superstar all-purpose back was one of the NFL's best players for most of the 2018 season. But a late-season knee injury ended up altering his career. Gurley has not looked like the same player, for the most part, since.
An explosive talent since coming to St. Louis in the 2015 first round, Gurley shook off an ACL tear he sustained while at Georgia to win offensive rookie of the year honors that season. His peak stretch occurred from 2017-18, when he totaled 40 touchdowns and nearly 4,000 scrimmage yards. Gurley resided as the centerpiece of Sean McVay's attack during the Rams' resurgence over this time, finishing second in the 2017 MVP voting. But last season, his workload and per-touch averages plummeted.
Although Gurley played in 15 games last season, his per-carry average dropped from 4.9 to 3.8. A year after a 59-reception, 580-yard season, Gurley totaled just 31 catches and 207 yards in 2019. The Rams worked backup Malcolm Brown into the offense more, which followed Gurley's sudden timeshare with C.J. Anderson in the 2018 playoffs. Brown and 2019 third-round pick Darrell Henderson now reside as the Rams' top running backs.
Both McVay and Gurley danced around the topic of Gurley's injury over the past year and change, but that matter will soon be another team's to discuss. Gurley will not command the kind of money he received with the Rams ($21.9MM fully guaranteed) but will be a somewhat attractive commodity on the market given his production. However, the NFL's COVID-19 policies figure to impede Gurley's path to another team. Players are not allowed to visit teams, which will prevent other medical staffs from examining the talented back.
This marks another bad sign for high-end running back deals. Gurley resetting the market led to David Johnson, Le'Veon Bell and Ezekiel Elliott landing contracts averaging north of $13MM per season. The Johnson and Bell deals quickly became onerous for their respective franchises. With the talented 2017 running back class now extension-eligible, it will be interesting to see how teams proceed given the early returns from the new running back market.
Photo courtesy of USA Today Sports Images.
Follow @PFRumors