The Bengals have officially signed D.J. Reader, according to Ian Rapoport of NFL.com (on Twitter). The two sides agreed to a deal weeks ago, but the pandemic threw a wrench into their plans.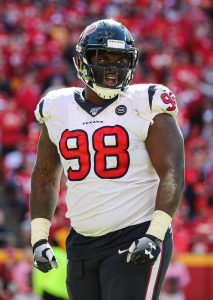 The deal, at long last, is done after Reader agreed to additional language that has been popping up more and more as of late. In essence, Reader's deal is done, though he still must pass a physical in order for the deal to take effect. If he doesn't pass, the Bengals will have the option of cutting him immediately or keeping the contract as-is. It adds an extra layer of protection for the Bengals, of course, but also ensures that Reader will not be left in a holding pattern.
As previously reported, Reader's four-deal is set to pay him $53MM with a favorable cash flow. He'll get $22.25MM in Year 1 and $31.75MM over the first two years of the contract. It's a big commitment, but the Bengals believe that it's a worthwhile one – Reader is fantastic against the run and he'll be downright scary when lined up next to Geno Atkins on the interior line.
"I know we're in a good spot with the mix of young and experienced players that know what they're doing. You've got guys like Geno and Carlos Dunlap that have played a lot of ball," Reader told the team website recently. "They're great leaders and everybody in the back end. And we've got some new guys coming in now. It's a revamped team, but a lot of their standard pieces are in place. It wasn't like you needed that much to come. You've got young guys like (right end) Sam Hubbard, the receivers are good. Running back Joe Mixon is good; the offensive line is good and has a lot of guys that have been there. I knew the record didn't reflect what the team had last year."
The Broncos, Bills, and Titans were among the clubs looking at Reader last month. Ultimately, the Bengals came out on top to land one of the league's best young 3-4 NTs.
Photo courtesy of USA Today Sports Images.
Follow @PFRumors