The Dolphins ended many months of speculation, and finally got who they hope is their future franchise quarterback. Miami picked Tua Tagovailoa fifth overall on Thursday night.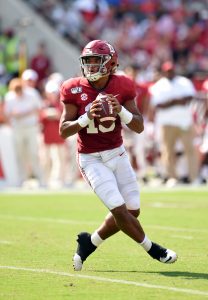 There was a lot of talk that the Dolphins could go offensive tackle with their first selection, but it turns out that was a smokescreen. The team has been linked to Tagovailoa for over a year, and it was widely speculated that they tanked the 2019 season with him in mind. Tagovailoa's devastating hip injury at the end of his Alabama career threw a wrench into things, and uncertainty about his medicals caused some teams to downgrade him.
In recent weeks momentum started to build for Oregon passer Justin Herbert, and there were reports that some inside the Dolphins' building preferred Herbert. It's possible that was all a smokescreen as well, and things ended up right back where they started.
Tagovailoa has apparently gotten great reports back from his doctors, although his exact timeline for returning to full-speed is still unclear. The Dolphins also have Ryan Fitzpatrick on the roster who can serve as a mentor and fill in just in case Tagovailoa isn't ready for Week 1. In addition to his troublesome hip, Tagovailoa has also dealt with wrist and ankle injuries in the past.
If he can stay healthy, the Dolphins might've finally found their guy. Miami certainly won't be tanking in 2020, after they spent big in free agency on guys like Byron Jones and Kyle Van Noy.
Photo courtesy of USA Today Sports Images.
Follow @PFRumors