The Packers are making a surprising splash. They've traded up with the Dolphins to get the 26th pick, and are using it on Utah State quarterback Jordan Love.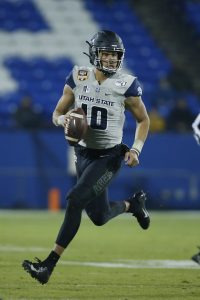 We've been waiting for some fireworks, and this certainly qualifies. Green Bay is setting up for the post-Aaron Rodgers era, and it'll be very interesting to see what Rodgers thinks of this selection. The Packers gave up pick 136 in the fourth-round to move up four spots from 30. The Pack apparently "secretly coveted" Love in the pre-draft process, Ian Rapoport of NFL Network tweets.
The Packers made it all the way to the NFC Championship Game last year, but it wasn't Rodgers' finest season statistically and he'll turn 37 in December. Rodgers is under contract through the 2023 season, and he isn't likely going to be too happy about a first-round rookie breathing down his neck.
It's a bold move by GM Brian Gutekunst, and one that will take several years at least to be able to evaluate. Rodgers and others were hoping the team would draft a second receiver behind Davante Adams, but obviously that wasn't the plan.
Love was a polarizing prospect, with many defenders and detractors in the analyst community. Viewed as a potential top pick after a dominant sophomore season where he averaged 8.6 yards per attempt with 32 touchdowns and six interceptions, he took a big step back in 2019.
In his junior campaign at Utah State, he averaged only 7.2 yards per attempt with 20 touchdowns and 17 interceptions. Clearly that wasn't enough to scare off the Packers. There had been some talk that the Dolphins might take a tackle with their first pick and look to add Love later on, but obviously they ended up going with Tua Tagovailoa with the fifth pick. Love won't be the Packers' starter in 2020, but he'll create a lot of drama and headlines right away. Buckle up in Green Bay.
Photo courtesy of USA Today Sports Images.
Follow @PFRumors