The coronavirus has radically changed the NFL Draft process and Steelers GM Kevin Colbert has offered up one proposal to help teams adjust to the lack of workouts and Pro Days. Colbert has asked league officials to add an additional three rounds to this year's draft, bringing the total number of rounds to ten, as Manish Mehta of the Daily News writes.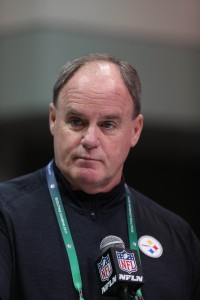 In lieu of drills and auditions, teams are permitted to hold up to three hour-long video conferences per week with any prospect. Still, coaches and executives like Colbert feel like they are flying blind. The draft is already wildly unpredictable; now teams have less intel than ever before. Because there are bound to be many misfires, Colbert believes the Steelers (and other clubs) can offset things a bit with a greater margin for error.
It's not immediately clear whether the league is giving real consideration to Colbert's idea, but anything is possible given these unprecedented conditions. This year's draft will be "fully virtual" with executives conducting their business in separate locations, rather than the initial plan of allowing teams to gather their front office officials in one room.
The league has done its best to adjust. For example, Tua Tagovailoa recently underwent a voluntary medical re-check via the league's combine committee. Ordinarily, his surgically-repaired hip would have been examined by scores of team doctors in separate exams, Instead, every team was allowed to request specific tests and the results were then shared with all 32 clubs.
Follow @PFRumors