More support for a rule change that would significantly diminish the onside kick's impact on the game emerged this week. The NFL discussed a proposal that would give teams the opportunity to attempt 15-yard conversions to keep the ball, rather than try onside kicks. Although the league tabled the proposal, ownership was nearly dead-even on it.
This year's fourth-and-15 proposal — which would have given teams the option of trying two 15-yard conversions (on untimed downs) per game — is believed to have received support from 16 teams, whereas the other half of the league was against. Steelers owner Art Rooney II represented one of those against, calling it "gimmicky," but expressed support for finding a way to change the onside kick.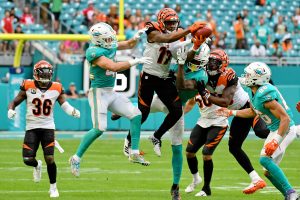 Since the NFL prevented kicking-team players from receiving running starts before onside kicks take place, the play has become a less relevant part of the game. Non-surprise onside kicks have been recovered at around a 9% rate since 2018, per NFL data and analytics head Michael Lopez.
From 2010-17, non-surprise onside kicks were recovered by kicking teams 13.2% of the time. Teams have converted third- or fourth-and-15 plays 16.5% of the time over the past 15 years, according to Warren Sharp of SharpFootballStats.com. While 2020 will increase the sample size for the current form of onside kick, the alternative scenario would seemingly provide teams better chances at making comebacks.
The sect of NFL owners who came out against the fourth-and-15 proposal did so because of concerns it would threaten the kickoff's place in the game. Both of the past two spring-league efforts — 2019's Alliance of American Football and 2020's XFL reboot — did not use the NFL's kickoff setup, with the AAF removing the play altogether and the XFL using a creative format that placed everyone but the kicker and return man five yards apart to reduce the chances of high-speed collisions. The NFL made an effort to do the same nine years ago by moving the kickoff back to the 35-yard line — after it stood at the 30 from 1994-2010. This increased the touchback rate. The onside kick, however, will remain in place for another season. Is it on borrowed time?
Should the NFL move toward introducing a fourth-and-15 sequence (or a similar play involving the offense) to replace the onside kick? Vote in PFR's latest poll (link for app users) and weigh in with your thoughts in the comments section.
Photo courtesy of USA Today Sports Images.
Follow @PFRumors