A number of teams have been burned by giving lucrative contracts to running backs. The Cardinals (David Johnson), Rams (Todd Gurley), and Falcons (Devonta Freeman) are among the clubs that have absorbed significant cap charges for players who did not live up to their big payday. None of those players made it to the end of their second contract before being traded or cut.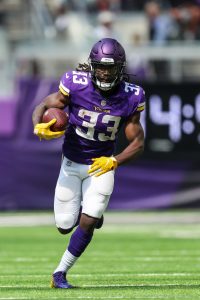 In addition, as important as some RBs can be to their team's offense (see: Christian McCaffrey), the position has generally been devalued in recent years. The prevailing thought is that most running backs are more replaceable than players at other key positions, and that RBs have a shorter shelf-life due to their number of touches and the beatings they take whenever they have the ball in their hands.
The Vikings, therefore, have a major decision to make when it comes to their own RB1, 2017 second-rounder Dalvin Cook. Cook burst onto the scene in his rookie campaign, gaining 122 yards in his regular season debut and averaging nearly five yards per carry in his first four games in the league. Unfortunately, his season was ended by an ACL injury in the fourth game, and in 2018, he was bothered by nagging hamstring issues and played in just 11 games, recording 133 carries.
Despite the hamstring problems and the limited workload in 2018, Cook did manage 4.6 yards per carry that season and also recorded 40 receptions for 305 yards. And though he was limited down the stretch of the 2019 season due to a chest injury, he piled up 250 carries for 1,135 yards (4.5 YPC) and 13 TDs to go along with 53 catches for 519 yards. He ranked as the eighth-best back in the league in terms of defense-adjusted yards above replacement.
So when he's healthy, he's pretty darn good, especially for an offense that wants to run the ball a lot. And the silver lining to his injury history is that he should still have a fair amount of tread on his tires, having recorded just 457 carries in his pro career thus far.
On the other hand, the fact that he has missed time with various ailments over his first three seasons in the league is troubling, and for a team that does not have a lot of cap room — particularly if the 2021 cap is reduced due to COVID-19 — ponying up a big-money extension for an injury-risk RB could be problematic. Though Cook will likely not get McCaffrey money, he could easily command $15MM or so on an annual basis, with $30-$40MM in full guarantees.
The Vikings did not select an RB with any of their 15 (!) picks in this year's draft, but they do return 2019 third-rounder Alexander Mattison, who performed well as Cook's backup last season. One wonders if Mattison's presence makes Minnesota less keen to break the bank for Cook.
That said, discussions between Cook and the Vikings have taken place. The soon-to-be 25-year-old said he wants to stay in Minnesota, and he has been participating in the club's virtual offseason program. We haven't gotten a status update on the contract talks for a bit — they may be stalled due to COVID-related uncertainty — and it remains to be seen whether a re-up will be hashed out this summer, or if Cook will play out the final year of his rookie deal with an eye towards unrestricted free agency in 2021.
So what do you think? Should Minnesota give Cook top-of-the-market money (or close to it), or should the club pass the torch to Mattison in 2021? Vote in the poll below, and show your work in the comment section.
Photo courtesy of USA Today Sports Images.
Follow @PFRumors