Yesterday, in response to DeSean Jackson's anti-Semitic social media post — for which Jackson subsequently apologized — the Eagles issued a statement that said the team "will take appropriate action." It remains to be seen whether that action includes cutting ties with the veteran wideout, but that certainly seems to be in the cards.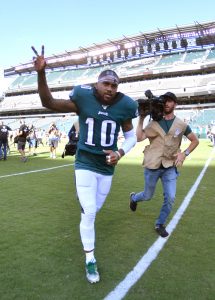 The ESPN.com report we cited in yesterday's story noted that Jackson had met with team owner Jeffrey Lurie and GM Howie Roseman — both Jewish — and that while Lurie expressed deep disappointment in Jackson's post, no suspension or termination had been discussed. Indeed, Jackson reportedly expressed to Lurie his desire to educate himself and work in the Jewish community.
However, NFL insider Adam Caplan says that team brass has met with Jackson and his agent several times, and that the situation is not going away (Twitter link). Per Adam Schefter of ESPN.com (via Twitter), Philadelphia's decision as to Jackson's future with the team could hinge on whether his social media post constitutes a default of his contract. The Eagles have already paid a $2MM option bonus, and $4.8MM of Jackson's 2020 salary is guaranteed. Schefter says the team could try to void that guarantee.
Mike Florio of Pro Football Talk obtained a copy of the contract, and he believes it would be difficult for the Eagles to get out of paying Jackson his guaranteed money. They could void the guarantee if Jackson were suspended by the league, but the league has made it clear that this matter will be handled by the team. And if Philadelphia tries to suspend him for conduct detrimental to the team, it would be facing an uphill battle since it did not suspend former receiver Riley Cooper when he was caught on camera using a racial slur in 2013. But Florio also believes a team source has told Schefter that, if the Eagles can release Jackson and absolve themselves of their $4.8MM obligation, they will.
As he awaits word of his fate and tries to repair his image, Jackson took to Twitter to post another apology.
Photo courtesy of USA Today Sports Images.
Follow @PFRumors