The Redskins' team name has been heavily criticized for some time for its racial overtones, though owner Dan Snyder previously avowed that he would never change the name. But as someone once said, "never say never."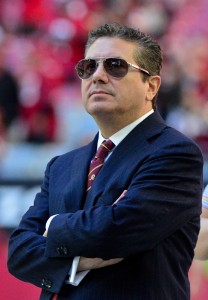 Facing renewed pressure to make a change, including a request from stadium sponsor FedEx, the club is undertaking a thorough review of the team name. The team issued the following statement (h/t Adam Schefter of ESPN.com via Twitter):
" In light of recent events around our country and feedback from our community, the Washington Redskins are announcing the team will undergo a thorough review of the team's name. This review formalizes the initial discussions the team has been having with the league in recent weeks.
Dan Snyder, owner of the Washington Redskins, stated, 'This process allows the team to take into account not only the proud tradition and history of the franchise but also input from our alumni, the organization, sponsors, the National Football League and the local community it is proud to represent on and off the field.'
Ron Rivera, Head Coach of the Washington Redskins, remarked, 'This issue is of personal importance to me and I look forward to working closely with Dan Snyder to make sure we continue the mission of honoring and supporting Native Americans and our military.'
We believe this review can and will be conducted with the best interest of all in mind."
Schefter believes the mere fact that the review is taking place is a clear indication that the name will indeed be changed. And sources tell Rick Maese, Mark Maske, and Liz Clarke of the Washington Post that the process will end in a new name and mascot, which could happen by the start of the 2020 season. After all, it would be a bad look, even by Snyder's standards, to undergo a review and not make a change. While there's not yet any clarity as to what the new name will be, Rivera's comments suggest that it will somehow pay homage to the nation's military.
Investment firms worth about $620B recently asked Nike, FedEx, and PepsiCo to end their relationships with the Redskins, and it could be that was the straw that broke the camel's back. Nike removed the Redskins name and their merchandise from its website Thursday night. The Tennessee Titans — the last team to change their name, after a two-year Tennessee Oilers phase — now reside at the bottom of the shoe giant's list of teams.
Meanwhile, NFL commissioner Roger Goodell issued a brief statement indicating that he has been discussing the matter with Snyder in recent weeks and is supportive of what appears to be an impending change.
Follow @PFRumors