After more than a year of rumors regarding an extension for Cowboys quarterback Dak Prescott, the two sides were ultimately unable to come to terms prior to the July 15 deadline for franchise-tagged players. So Prescott will play out the 2020 season on the tag, and the rumor mill will start churning again in 2021.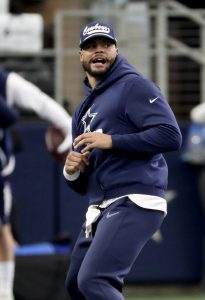 However, both player and team have no doubt that Prescott will remain Dallas' starting signal-caller for the foreseeable future. As Prescott said yesterday, he always dreamed of playing for the Cowboys and continues to expect that he will retire as a member of the team (video link via Jon Machota of The Athletic). "I believe something will get done," he said (Twitter link via Calvin Watkins of the Dallas Morning News).
Likewise, team VP Stephen Jones said he is "more convinced than ever" that a long-term deal will come together (Twitter link via Michael Gehlken of the Dallas Morning News). Jones noted that the financial uncertainty created by the pandemic played a part in the failure to hammer out an extension, as did the length of the contract.
That last part is noteworthy. While we had heard for some time that the Cowboys were pushing for a five-year pact and Prescott was angling for a four-year term, a report surfaced immediately after the July 15 deadline suggesting that Prescott wanted to accept Dallas' final offer, a five-year proposal featuring $110MM in guarantees and $70MM in cash flow over the first two seasons. But that report, from Jane Slater of NFL.com, was refuted by Charles Robinson of Yahoo Sports, who said the two sides were never closer to an agreement than they were in September 2019.
Assuming the Cowboys and Prescott do get a deal done next year, Dallas brass may regret not finalizing matters last September. A deal then would not have cost Dallas more than $35MM in terms of AAV — and possibly a little less — but Prescott's projected franchise tag number in 2021 sits at ~$38MM, so that will likely be the starting point for negotiations next year. Plus, while Prescott cannot make a case to land a deal like the one Patrick Mahomes just got from the Chiefs — which seems like an outlier in terms of structure anyway — a Deshaun Watson re-up with the Texans could push Prescott's asking price even higher.
And with the salary cap likely to decrease in 2021, the Cowboys may have some tough choices to make with respect to the rest of their roster in order to keep Prescott in the fold.
Photo courtesy of USA Today Sports Images.
Follow @PFRumors