Despite a rocky start to the season, the Eagles are not thinking about benching Carson Wentz, head coach Doug Pederson says. In an interview on 94 WIP, Pederson shot down the notion of giving Wentz the hook in favor of rookie Jalen Hurts.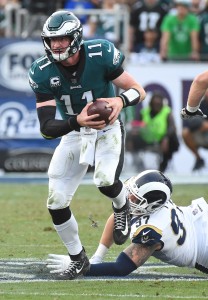 "You don't go there," Pederson said (via NJ.com's Chris Franklin). "That's a knee-jerk reaction. That's a reaction to things that sometimes are the aura that's out there. That's not what we believe internally. We are going to continue to get better. Carson is our quarterback. We are going to get it fixed. Listen, we are only half a game out of first place. The whole division is not playing good football. We're not that far off."
Wentz hasn't been all that and a bag of chips through three games, lobbing two interceptions in each contest against the Washington Football Team, the Rams, and the Bengals. After dropping the first two games, the Eagles came out of this week's game with a tie, leaving them at 0-2-1 heading into Week 4 against the 49ers. On the plus side, the rest of the NFC East hasn't gotten off to a rollocking start either, as Pederson indicated. Currently, Washington (1-2) and Dallas (1-2) share the divisional lead with the Giants (0-3) in the cellar.
If Wentz's struggles continue, so will the questions about Hurts. During his lone season at Oklahoma, Hurts ran for 1,298 rushing yards and 20 touchdowns on 233 carries. Wentz, meanwhile, has several years and zeroes to go on his four-year, $128MM extension.
Photo courtesy of USA Today Sports Images.
Follow @PFRumors